Jun 15—Jul 15, 2018
Born for This:

A New Musical

THE INCREDIBLE TRUE STORY OF BEBE WINANS
"I haven't heard singing this divinely inspired since Cynthia Erivo, Danielle Brooks and Jennifer Hudson tore it up in the Tony-winning revival of The Color Purple."
— LA Times
A story of family, love and forgiveness.
Detroit teenagers BeBe and Cece Winans experience the ultimate in culture shock when they leave the comfort and safety of their already-famous family to join Jim and Tammy Faye Bakker's Praise The Lord Network in Pineville, North Carolina. The televangelist couple becomes an unlikely surrogate family as the siblings rapidly rise to television stardom. After the duo achieve unexpected fame with a PTL performance of a remake of the hit song, "Love Lift Us Up (Where We Belong)," they encounter the seductive lure of celebrity and they establish life-long friendship with rising pop star Whitney Houston. Ultimately, BeBe must learn to reconcile the temptations of stardom and fortune with the things he ultimately values more.
Born For This: A New Musical brings the legendary artist's story to life with acclaimed new music and lyrics by BeBe Winans that has audiences rising from their seats in thunderous ovations. A wildly funny yet deeply emotional journey toward self-discovery, Born For This is the family-friendly and universal story for anyone who has ever yearned for something – for anyone who is looking to find their purpose in life.
With Book by Charles Randolph-Wright, BeBe Winans, and Lisa D'Amour, Original Music and Lyrics by BeBe Winans, Choreography by Warren Adams, and Directed by Charles Randolph-Wright, Born For This celebrates the incredible true story of six-time GRAMMY® Award-winning legend BeBe Winans, the young man who followed his heart and found his destiny.
Info

Venue
Emerson Cutler Majestic Theatre
219 Tremont Street Boston, MA 02116
Dates
Jun 15, 2018 - Jul 15, 2018
Details
2 hours 30 minutes, including one intermission
Preview Tickets from $18
Regular Tickets from $20
Ages 5+
Access
Open Caption Performance
Fri, Jul 06 8:00 pm
Open Caption Performance
Sat, Jul 14 2:00 pm
Audio Described Performance
Sun, Jul 15 2:00 pm
Artists
Original Music and Lyrics:
BeBe Winans
Book by:
Charles Randolph-Wright, BeBe Winans and Lisa D'Amour
Director:
Charles Randolph-Wright
Cast:
Donald Webber Jr., Loren Lott, Kirsten Wyatt, Chaz Pofahl, Nita Whitaker, and Milton Craig Nealy
Choreographer:
Warren Adams
Scenic Designer:
Neil Patel
Costume Designer:
William Ivey Long
Lighting Designer:
Jason Lyons
Sound Designer:
Jon Weston
Projection Designer:
John Narun
Music Supervision & Vocal Arrangements:
Donald Lawrence
Orchestrations, Arrangements, & Music Direction:
Steven Jamail
Stage Manager:
Kurt Hall
Assistant Stage Manager:
Alfredo Macias
Casting:
Tata Rubin Casting
Production Manager:
Mary Duffe
General Management:
Maximum Entertainment Productions
Producer:
Ron Gillyard
BENJAMIN "BEBE" WINANS
BENJAMIN "BEBE" WINANS, the inspirational R&B and gospel vocalist and six-time GRAMMY® Award winner is the seventh child and youngest male of the Detroit based first family of gospel music. Teaming with his younger sister, Priscilla "CeCe", the duo first began crossing lines as "adopted children" of Jim and Tammy Faye Bakker on the PTL television show.
BeBe & CeCe are the first true Christian crossover artists to hit the mainstream. They appeared frequently on national television — from The Arsenio Hall Show to Good Morning America to The Oprah Winfrey Show — where they have taken their message and presented it in a way that touched, moved and inspired wide audiences. BeBe and CeCe are the first brother and sister to have a star on the Hollywood Walk of Fame.
On their first tour, Whitney Houston sang background for the siblings — proclaiming herself their "sister" and setting the tone for her own special career. BeBe & CeCe have nine successful gold and platinum recordings and in 1995 they began to explore their solo endeavors.
Since then, BeBe has become known as an inspirational, R&B, and popular vocalist, songwriter, and producer, renowned as the breakthrough artist to bridge the language of his roots in the church with a chart-topping, award-winning career spanning audiences universally throughout all genres.
Along with his seven solo albums with guest appearances from friends as disparate as Eric Clapton, Stevie Wonder, David Foster, Anita Baker, best friend Whitney Houston and members of the Winans family, BeBe is known for his jaw-dropping performances on some of the most important and star-studded musical specials of the past decades. BeBe, with his sisters, brothers, parents and on his own, has achieved an iconic status with the audiences he has moved and encouraged through the Winans' brand of popular inspirational song.
He was an Executive Music Producer for the OWN Network's latest scripted series, Greenleaf; host of his own radio show on the Heart & Soul Channel (68) on Sirius/XM Radio Networks on Sunday Mornings (9am ET/7am PT); author; actor in motion pictures including friend Denzel Washington's, The Manchurian Candidate; and star of productions such as starring alongside Chaka Khan on Broadway in Oprah Winfrey Presents The Color Purple.
BeBe Winans has won six GRAMMY® Awards (three solo and three with sister CeCe Winans), ten Dove Awards, six Stellar Awards, four NAACP Awards (three with CeCe and one with 3WB with brothers Marvin and Carvin) and 3 Soul Train Music Awards (2 of them with sister CeCe).
In addition to his other projects, BeBe Winans is currently an Ambassador for Metro World Child, an organization committed to providing hope and building futures for children living in adverse conditions in metropolitan areas around the world.
Fans may connect with BeBe Winans on Facebook, Twitter (@TheBeBeWinans) and Instagram (@BeBeWinans). For more information, visit BeBeWinans.net.
CHARLES RANDOLPH-WRIGHT
CHARLES RANDOLPH-WRIGHT is a playwright, screenwriter and director. He directed the Broadway and West End mega hit Motown: The Musical and its national tour. Other theater directing credits include the Pulitzer Prize-winning plays Ruined and Sophisticated Ladies at Arena Stage (where he was an inaugural resident playwright), Through The Night at The Geffen and Off Broadway, the 75th Anniversary international tour of Porgy and Bess, Love/Life at Lincoln Center (with Brian Stokes Mitchell), the national tour of Guys and Dolls (starring Maurice Hines), Cabaret Verboten at the Mark Taper Forum (with Bebe Neuwirth and Roger Rees) and the world premieres of the plays Tough Titty, Akeelah and the Bee, and the musical Senor Discretion Himself. Randolph-Wright is the author of the plays Blue (starring Phylica Rashad and Diahann Carroll), The Night is a Child (starring JoBeth Williams), Cuttin' Up, Love in Afghanistan and co-author of Just Between Friends – Bea Arthur on Broadway. He directed the award-winning film Preaching to the Choir, and has written screenplays for HBO, Showtime, Disney and Fox as well as the Showtime series Linc's. For television he has directed Greenleaf, Lincoln Heights, South of Nowhere, the music special America America, and the "Freestyle" football commercial for Nike.
Randolph-Wright started his career as a performer. His credits include the original Broadway production of Dreamgirls as well as Hill Street Blues and Melrose Place among others. He studied acting with the Royal Shakespeare Company in London and dance with the Alvin Ailey School in New York City.
Randolph-Wright's productions have received numerous awards, including NAACP Image, Helen Hayes, Ovation, Audelco as well as GRAMMY and Tony nominations. He is the recipient of the S.C. Medal of Honor in the Arts, the Creative Spirit Award, The Pasadena Playhouse Theatrical Diversity Award, and the Paul Robeson Award from Actors' Equity. For more information, visit Randolph-Wright.com.
LISA D'AMOUR
LISA D'AMOUR is a playwright and inter-disciplinary artist and one half of the Obie Award-winning performance duo PearlDamour. Her plays have been produced by theaters across the country, including MTC's Samuel J. Friedman Theatre on Broadway, Playwrights Horizons, Clubbed Thumb, (all in NYC); Steppenwolf Theatre (Chicago); Woolly Mammoth Theatre (Washington, D.C.); and the National Theatre in London. Lisa's Detroit was a finalist for the 2011 Pulitzer Prize in Drama. She is the recipient of the 2008 Alpert Award for the Arts in theater, the 2011 Steinberg Playwright Award and is a recipient of the 2013 Doris Duke Performing Artist Award.
CAST
Donald Webber Jr. as BeBe Winans
Loren Lott as CeCe Winans
Kirsten Wyatt as Tammy Faye Bakker
Chaz Pofahl as Jim Bakker
Nita Whitaker as Mom Winans
Milton Craig Nealy as Pop Winans
Maddie Shea Baldwin as Penny
Kurt Boehm as Jimmy Ray/Record Executive/Stage Manager
Matthew Griffin as Carvin Winans/Alvin Love
Gracie Jones as Edith
Liisi LaFontaine as Sister Jones/Whitney Houston
Jay McKenzie as Michael Winans/Howard
Nick Morrett as Bob/Josh
Jarran Muse as Marvin Winans
Brad Raymond as Ronald Winans
Cullen Titmas as Executive/Piano/PTL Announcer
Ensemble
Phillip Brandon
Tynia Rene' Brandon
Rod Harrelson
Aashley Morgan
Gallery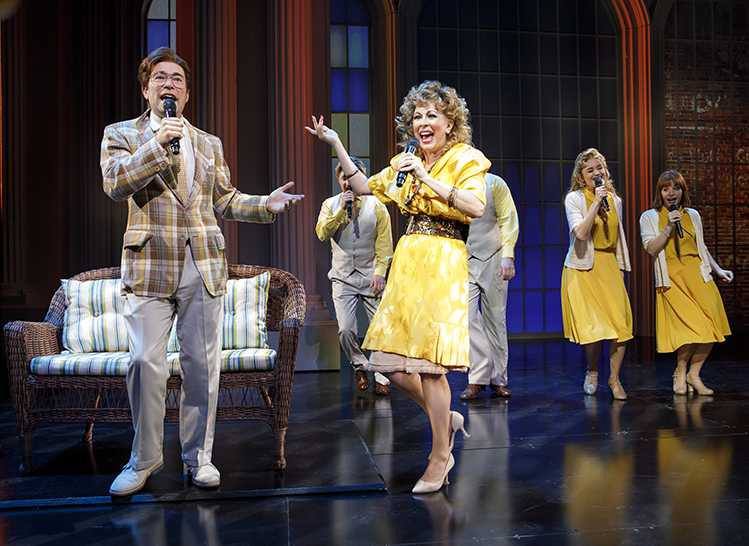 Photo Credit: Joan Marcus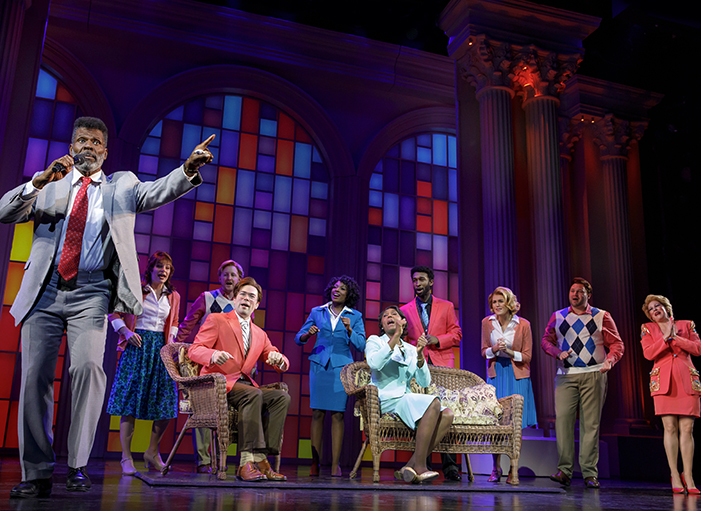 Photo Credit: Joan Marcus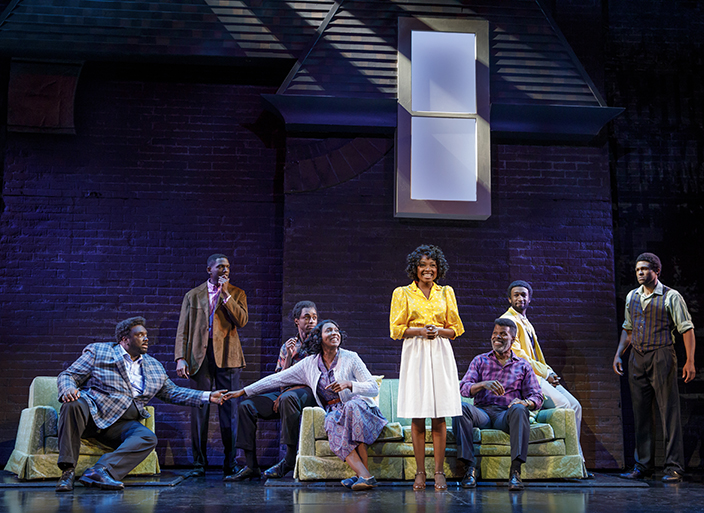 Photo Credit: Joan Marcus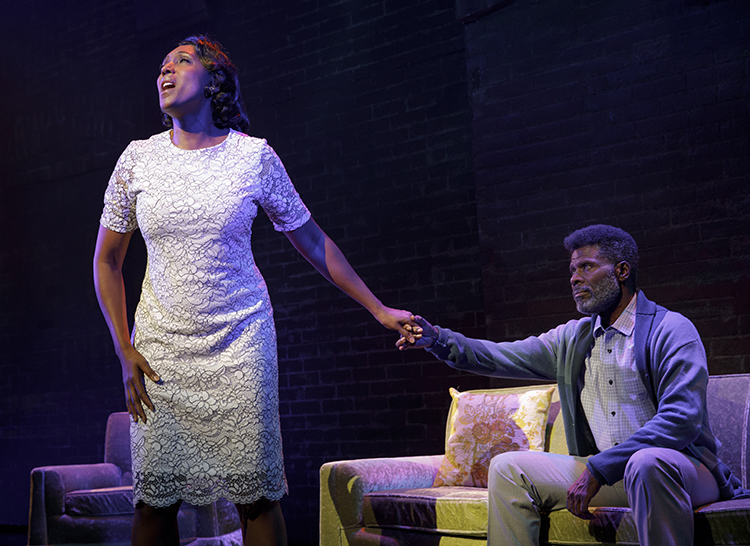 Photo Credit: Joan Marcus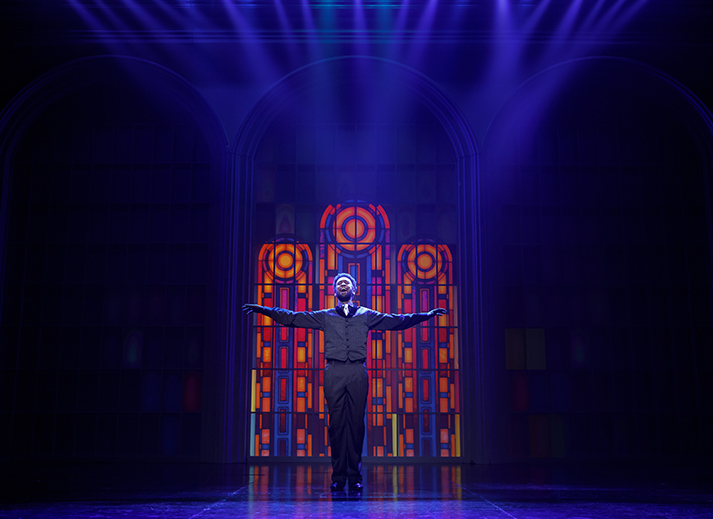 Photo Credit: Joan Marcus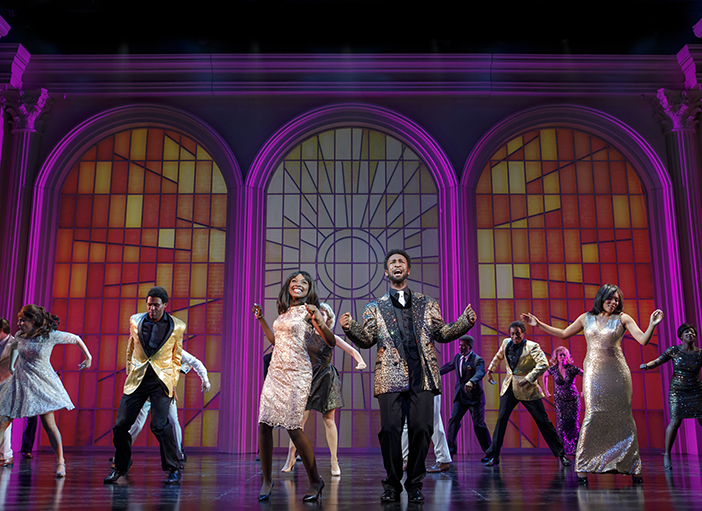 Photo Credit: Joan Marcus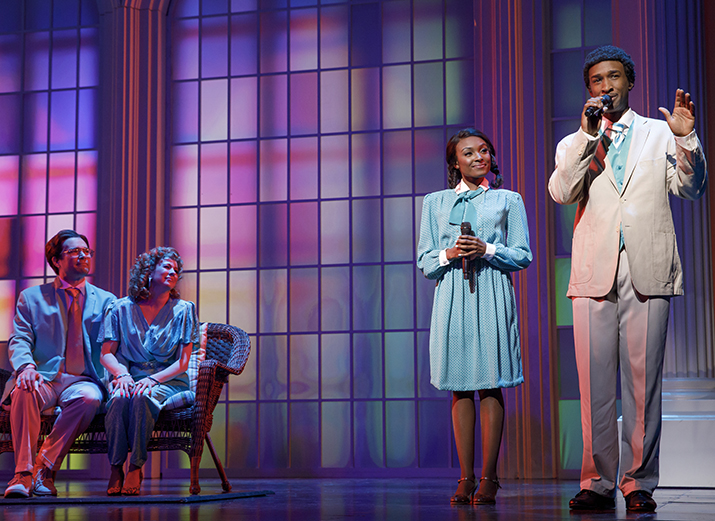 Photo Credit: Joan Marcus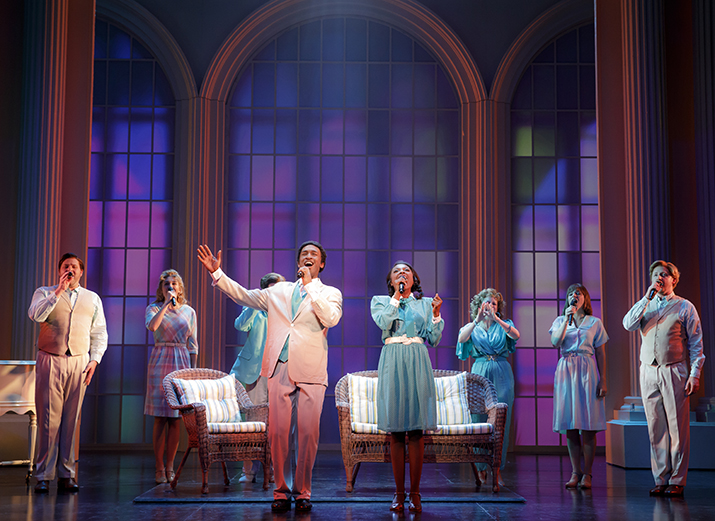 Photo Credit: Joan Marcus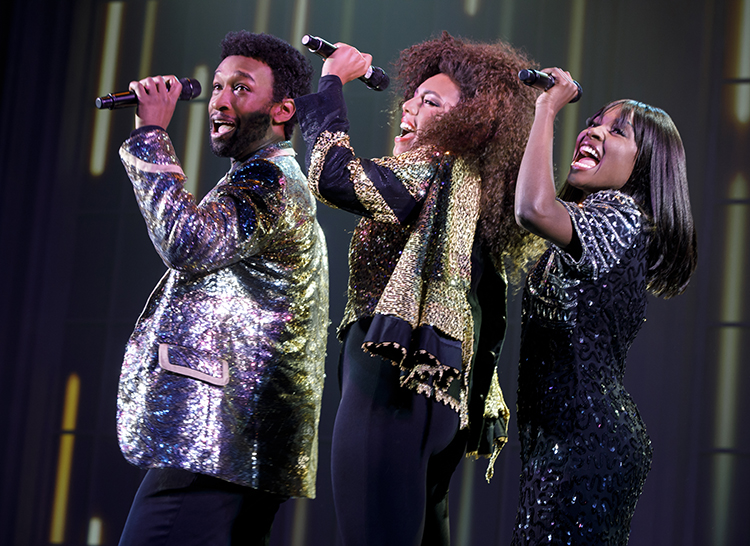 Photo Credit: Joan Marcus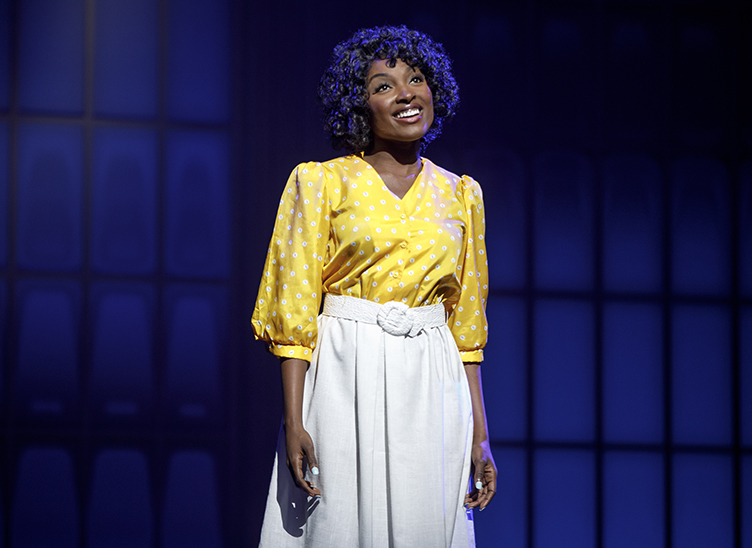 Photo Credit: Joan Marcus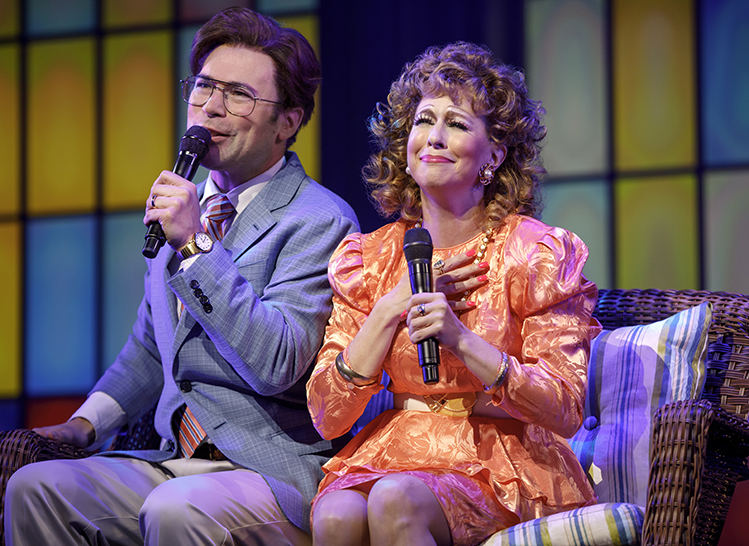 Photo Credit: Joan Marcus