Feb 22—26, 2023
Frankenstein
Manual Cinema / Chicago, USA
"Impossible to look away."
— The Daily Beast
Animation, puppetry, live music, and a gothic twist that electrifies Mary Shelley's classic novel for a new generation.
Love, loss, and creation merge in unexpected ways in this thrilling version of the classic Gothic tale, Frankenstein. Using more than 500 handmade puppets, old school projectors, as well as live actors and cinematic elements, Emmy-award winning troupe Manual Cinema returns to ArtsEmerson (Ada/Ava, The End of TV) to share its explosive, layered interpretation of the classic horror novel, Frankenstein. 
In this eye-popping visual feast, the Chicago-based performance collective imaginatively stitches together the classic tale of Frankenstein with the biography of its author, Mary Shelley, to create an unexpected story about the beauty and horror of creation. The real-life and fictional narratives of Shelley, Victor Frankenstein, and Frankenstein's monster expose how family, community, and education shape personhood – or destroy it by their absence. 
Info

Venue
Emerson Paramount Center
Robert J. Orchard Stage
559 Washington Street
Boston, MA 02111
Dates
Feb 22, 2023 - Feb 26, 2023
Season Package
Secure best seats today by purchasing a Season Package. 3-show Packages start as low as $73.75; save up to 15% on single ticket prices.
---
Groups of 10+
Orders of 10 or more tickets for any performance are available now.
Reserve Group Tickets
Details
70 minutes, no intermission
Tickets from $25
Ages 13+
We understand that certain types of content could trigger past traumatic experiences for some viewers. Please be aware that this production contains a depiction of infant death.
Access
Audio Described Performance
Sun, Feb 26 2:00 pm
Artists
Produced By
Manual Cinema
Manual Cinema is an Emmy award winning performance collective, design studio, and film/ video production company founded in 2010 by Drew Dir, Sarah Fornace, Ben Kauffman, Julia Miller, and Kyle Vegter. Manual Cinema combines handmade shadow puppetry, cinematic techniques, and innovative sound and music to create immersive stories for stage and screen. Using vintage overhead projectors, multiple screens, puppets, actors, live feed cameras, multi-channel sound design, and a live music ensemble, Manual Cinema transforms the experience of attending the cinema and imbues it with liveness, ingenuity, and theatricality. The company was awarded an Emmy Award in 2017 for "The Forger," a video created for The New York Times and named Chicago Artists of the Year in 2018 by the Chicago Tribune. Their shadow puppet animations are featured in the film remake of "Candyman," (2021) directed by Nia DaCosta and produced by Jordan Peele's Monkeypaw Productions.
Manual Cinema has been presented by, worked in collaboration with, or brought its work to The Metropolitan Museum of Art (NYC), BAM (NYC), Arts Emerson, Yale Repertory Theatre, The Museum of Contemporary Art Chicago, The Kennedy Center (DC), Under the Radar Festival (NYC), La Monnaie-DeMunt (Brussels), The Noorderzon Festival (Netherlands), The Kimmel Center (Philadelphia) The O, Miami Poetry Festival, The Tehran International Puppet Festival (Iran), Davies Symphony Hall (SF), The King Abdulaziz Center for World Culture (Saudi Arabia), The Ace Hotel Theater (LA), The Hakaway International Arts Festival (Cairo), The Edinburgh Fringe Festival, and elsewhere around the world. They have collaborated with StoryCorps (NYC), Erratica (London), The Belgian Royal Opera (Brussels), Hubbard Street Dance (Chicago), Pop-Up Magazine (SF), Nu Deco Ensemble (Miami), NYTimes best-selling author Reif Larsen (NYC), three time Grammy Award-winning eighth blackbird (Chicago), NPR's Invisibilia, Topic Magazine, Grammy Award winning Esperanza Spalding and The New York Times.
In 2020 Manual Cinema celebrated their ten year anniversary and had their South American premiere (at the Santiago a Mil festival).
Adapted from the novel by
Mary Shelley
Concept and Storyboards by
Drew Dir
Devised by
Drew Dir, Sarah Fornace and Julia Miller
Original Music and Sound Design by
Ben Kauffman and Kyle Vegter
Shadow Puppet Design by
Drew Dir with Lizi Breit
Projections & Scenic Design by
Rasean Davonte Johnson
Costume & Wig Design by
Mieka van der Ploeg
Lighting Design by
Claire Chrzan
3D Creature Puppet Design by
Lizi Breit
Prop Design by
Lara Musard
Production Stage Manager
Erin Albrecht
Video Mixing & Live Sound Effects by
Shelby Sparkle
Sound Engineered by
Sadi Tremblay & Mike Usrey
Puppeteers
Sarah Fornace (Victor, Mary Shelley); Julia Miller (The Creature, Elizabeth); Leah Casey (Percy, Vocals); Sara Sawicki (Alphonse, Lord Byron); Myra Su (Ensemble)
Musicians
Peter Ferry (percussion); Zachary Good (clarinets, aux percussion); Deidre Huckabay (flutes, aux percussion, piano); Lia Kohl (cello, aux percussion, vocals)
Gallery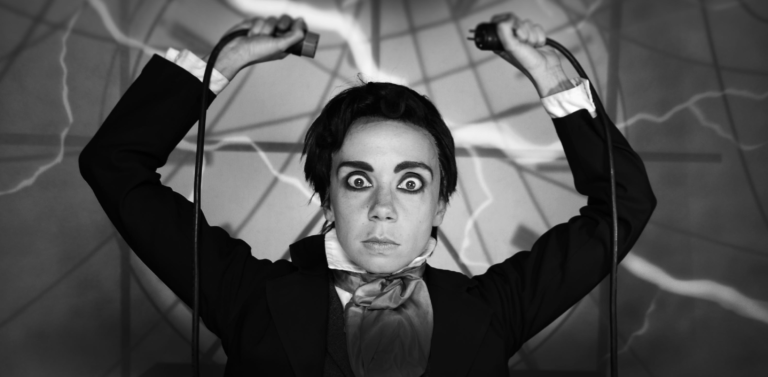 Photo Credit: Sarah Fornace as Victor by Drew Dir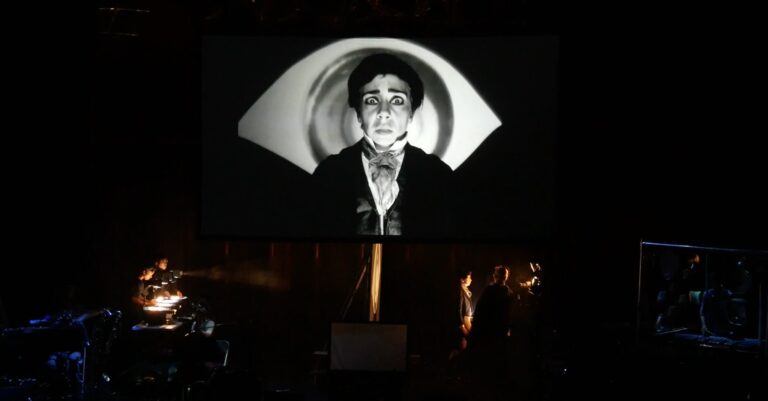 Photo Credit: Manual Cinema's Frankenstein, Sarah Fornace, image by Manual Cinema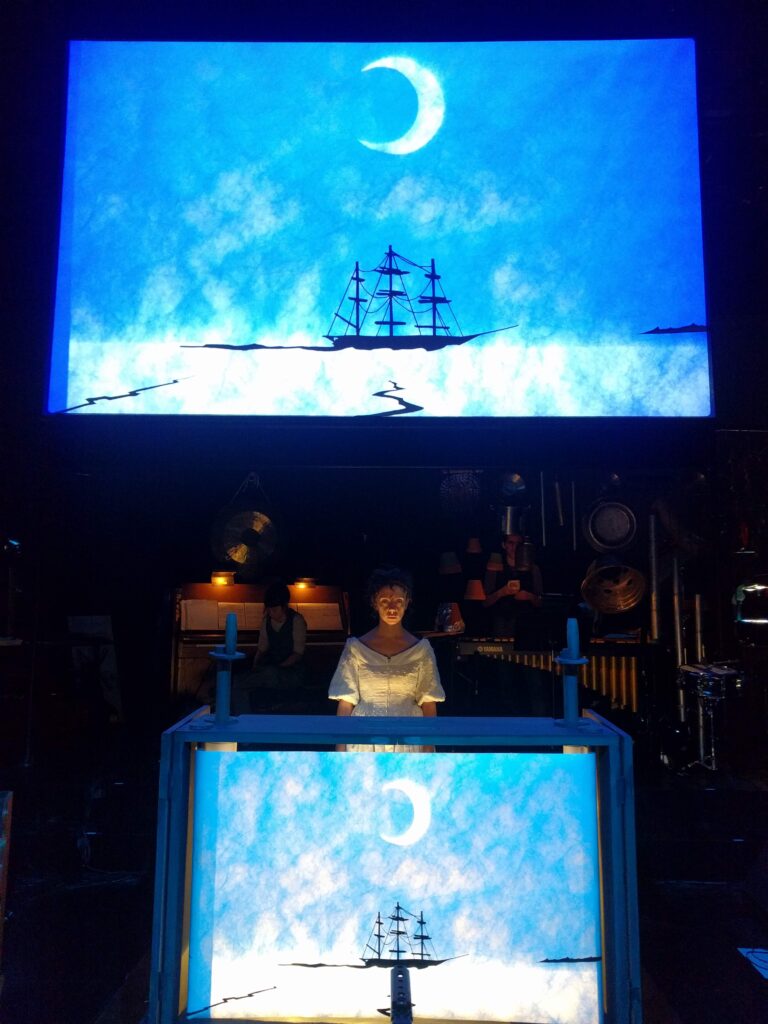 Photo Credit: Manual Cinema's Frankenstein, Sarah Fornace as Mary Shelley, by Julia Miller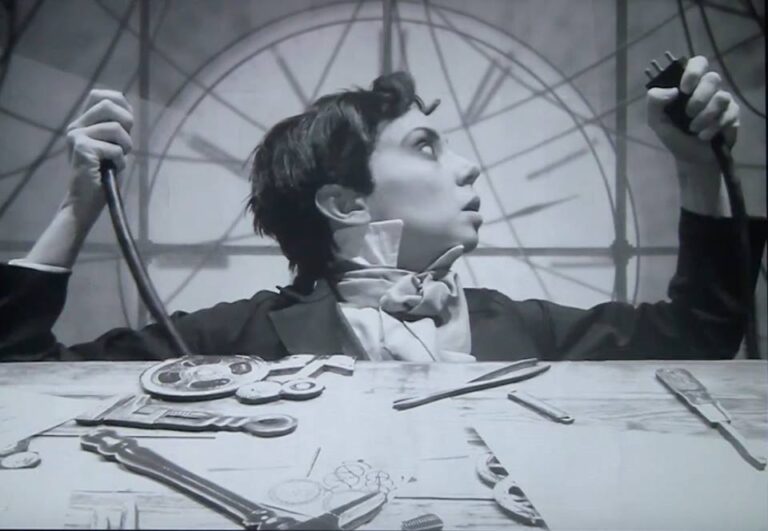 Photo Credit: Manual Cinema's Frankentein, Sarah Fornace as Victor, by Drew Dir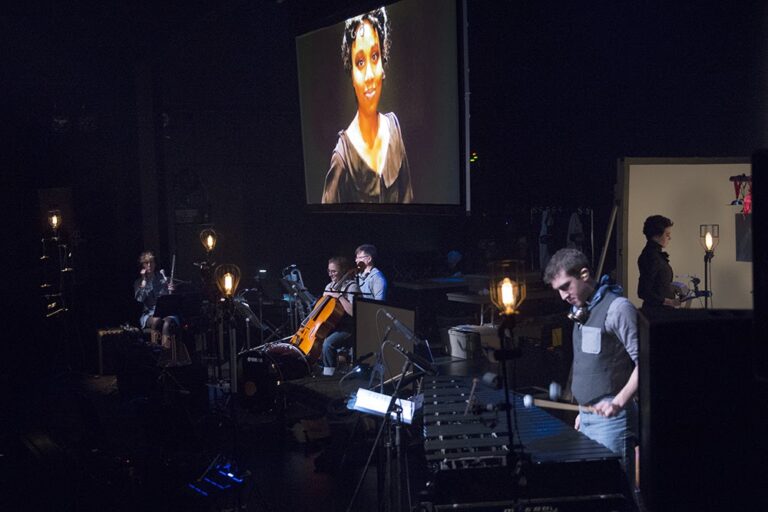 Photo Credit: Photo by Meta Antolin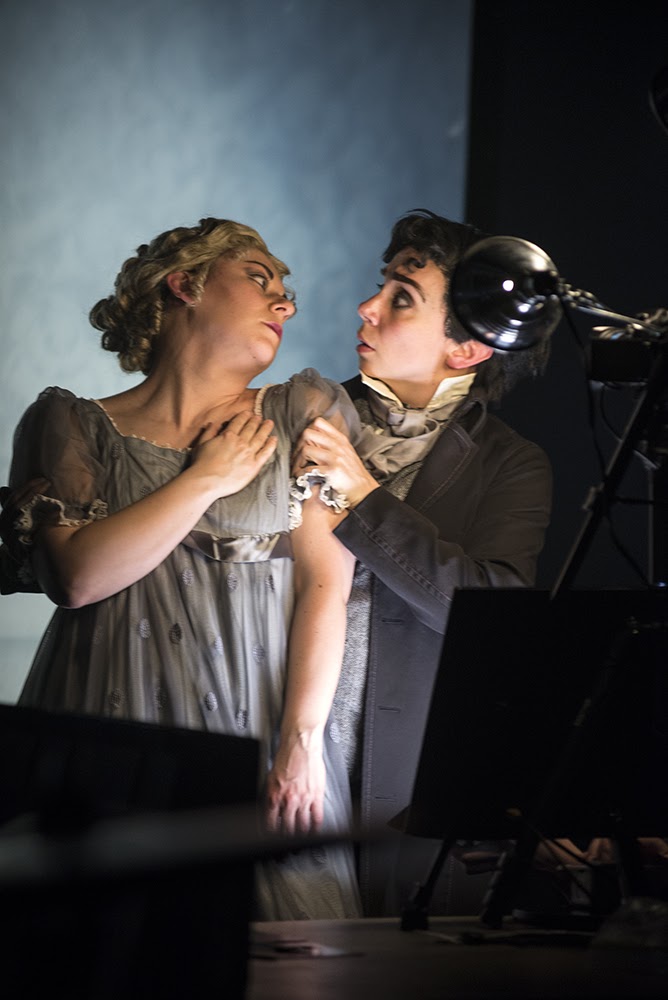 Photo Credit: Julia Miller and Sarah Fornace photo by Meta Antolin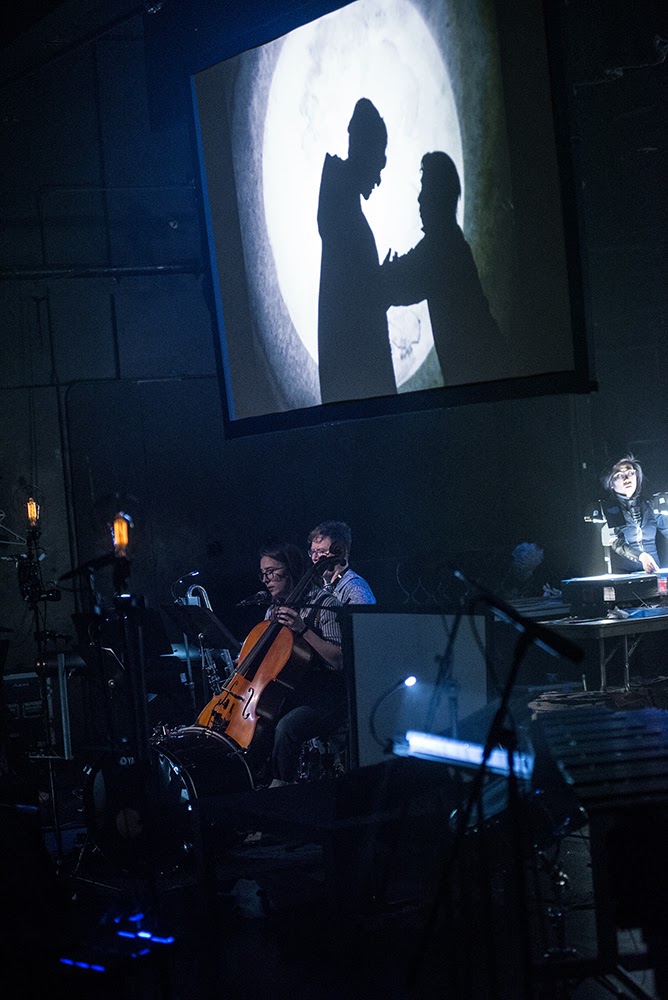 Photo Credit: Photo by Meta Antolin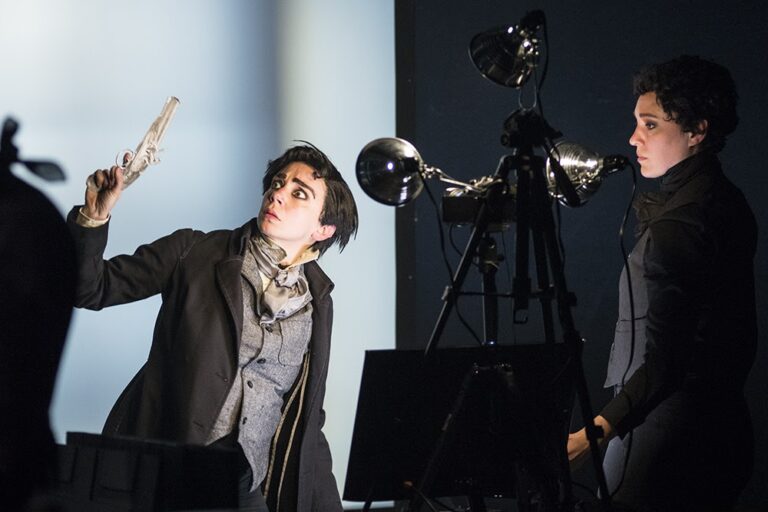 Photo Credit: Sarah Fornace and Sara Sawicki, photo by Meta Antolin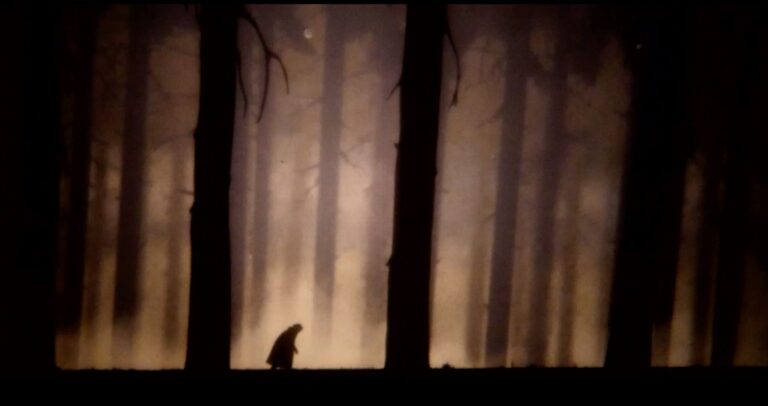 Photo Credit: The Creature in the Woods, Julia Miller