Culture Clash: A Table of Context
By David Dower
In the populist, political, hit-and-run spirit of tonight's performance, we offer the following quick snapshots from the people's encyclopedia, Wikipedia, to orient you to the delirious, daffy, deadly serious world of Culture Clash.
LIVING NEWSPAPER
"Living Newspaper" is a term for a theatrical form presenting factual information on current events to a popular audience. Historically, Living Newspapers have also urged social action (both implicitly and explicitly) and reacted against naturalistic and realistic theatrical conven­tions in favor of more direct and experimental techniques of agitprop theatre. Though Living Newspapers originated in Russia during the Bolshevik Revolution, the English term is most often associated with the Living Newspapers produced by the Federal Theatre Project. Part of the federally funded arts program produced under the Works Progress Administration, the FTP wrote and presented a number of Living Newspapers on social issues of the day. Controversy over the political ideology of the Living Newspapers contributed to the disbanding of the FTP, and a number of Living Newspapers that were already written or in development were never performed, including several that addressed race issues.
EL TEATRO CAMPESINO
El Teatro Campesino is a theatrical troupe founded in 1965 as the cultural arm of the United Farm Workers. The original actors were all farm workers, and El Teatro Campesino enacted events inspired by the lives of their audience. Early performances were on flatbed trucks in the middle of the fields in Delano, California. Luis Valdez, a Chicano from a migrant farm worker family, founded the troupe after attending San Jose State University and working briefly with the San Francisco Mime Troupe. The early performances drew on varied theatrical traditions such as comedy dell'arte, Spanish religious dramas adapted for teaching Mission Indians, Mexican folk humor, a century-old tradition of Mexican performances and Mayan sacred rituals.
SATURDAY NIGHT LIVE
"Saturday Night Live" (abbreviated SNL) is an American late-night television sketch comedy and variety show created by Lorne Michaels and developed by Dick Ebersol. The show premiered on NBC on October 11, 1975. The show's comedy sketches, which parody contemporary culture and politics, are performed by a large and varying cast of repertory and newer cast members.
GALERIA DE LA RAZA
Galeria de la Raza (GDLR) is a nonprofit art gallery and artists collective that serves the heavily Latino population of San Francisco's Mission District. GLDR mounts exhibitions, hosts poetry readings and workshops and sponsors artists-in-residence programs. Culture Clash was founded at GDLR on May 5th, 1984.
SPANGLISH
Spanglish is a language formed in a clash of cultures—from the interaction of Spanish (a Romance language) and English (a Germanic language). Spanglish is informal and lacks documented structure and rules.
COMEDY
The origins of the term are found in Ancient Greece. In Athenian democracy, the public opinion of voters was influenced by the political satire performed by comic poets at the theatres. The theatrical genre can be described as a dramatic performance which pits two groups or societies against each other in an amusing 'agon,' or conflict. A clash.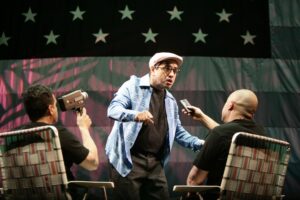 Culture Clash 30th Anniversary Tour: Muse & Morros runs March 11 – 29, 2015.
Follow them on Twitter!