January 24, 2013 | Theatre

,
The Comedy of Craft: Stock Characters of Commedia dell'Arte
Comedy, which is, or ought to be, a school for propriety, should only expose human weaknesses for the sake of correcting them. -Carlo Goldoni
If anyone knows a thing or two about comedy, it is 18th century Italian playwright Carlo Goldoni. He specialized in "comedy of craft" — stock characters, improvisation and impossibly hilarious scenarios, better known as commedia dell'arte.
One of the most fascinating parts of commedia is the characters. They are caricatures, to be sure, but they lack no semblance to reality; their very exaggeration acts as a mirror to our own faults and flaws. Besides, there's no greater fun than watching outlandish characters making fools of themselves. Here are a few quick facts about our favorite stock characters. Which one is yours?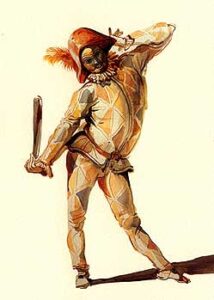 Arlecchino aka Harlequin
(aka Truffaldino in The Servant of Two Masters)

Wears a colorful patched costume (the sign of a poor man)
An acrobat and a wit
Always hungry. Constantly.
Love interest of Columbina
A witty and creative trickster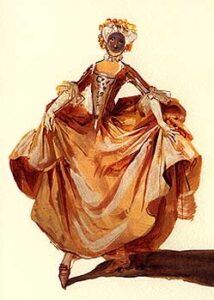 Columbina
(aka Smeraldina in Servant)
    Personal maid to the Innamorata
    Does not wear a full mask, only one that covers the eyes.
    Her costume accentuates her cleavage
    Sharp and gossipy
    Constantly pestered by men
    Loves Harlequin, but does not always accept him; instead, she punishes and shuns him.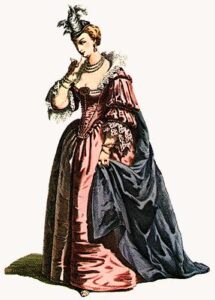 Innamorati
(aka Clarice/Silvio and Beatrice/Florindo in Servant)

Actually two people, but they might as well be one for how attached at the hip they are.
They are In love. Is that obvious?
Naturally, they are always thwarted by one thing or another. The story's plot is often driven by their journey back to each other.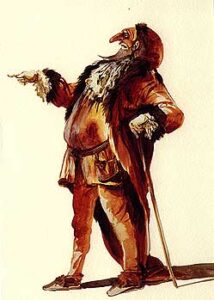 Pantalone
A Venetian merchant: rich, greedy and naive.
Constantly deals with people taking his gold from him
Constantly loses against wit and improvisation.
He cares for others while others care for nothing but his money
A little like a punching bag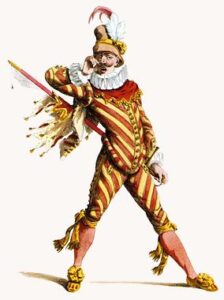 Il Capitano
A caricature of the professional soldier in Italian society: bold, swaggering, and cowardly.
Wields a huge sword that he never uses.
Sports a pointy mustache that he is rather proud of.
His bark is bigger than his bite, if you will.
This pleased the Italian crowds, who were oppressed by the mercenary occupation armies. Talk about small, platonic revenge.
Il Dottore
A caricature of learning – a Venetian merchant, rich and retired, mean and miserly.
Very fat. But fat means rich, no?
Pretends to have total knowledge supported by his science
Arrogant and ignorant
Talks and talks and talks and talks and talks and talks and talks and talks and talks.
Talks some more.
Member of every academy known or unknown. "Knows" everything.
More of a lawyer or judge than a medicinal doctor.
Brighella
Harlequin's crony, although more roguish
A cowardly villain who would do anything for money
"Brigare" is Italian for "quarrel, trouble, intrigue."
Violent, exaggerated, womanizing
Don't miss out on seeing these characters on stage in just a few weeks! ArtsEmerson is proud to welcome Yale Repertory Theatre's production of Goldoni's The Servant of Two Masters from January 29-February 10. Written in 1743, Servant is Goldoni's most famous play. Click here for tickets.
Want to get to know these characters even better? We've given them an entire web page. We call it "ComMEMEia dell'arte."
Andrea Gordillo is an Emerson BFA Acting'14 student and a Dramaturgy & Outreach Assistant at ArtsEmerson.