February 19, 2013 | Theatre

,
Which Nick Cave Is Right For You?
Has a friend or family member suggested you incorporate Nick Cave's work into your life? Are you confused? Are you asking yourself, "which Nick Cave is right for my life?" It's no cause for alarm. The hyper-talented, morphing, songwriter, author, and performer of stage, screen, and page has been transforming before our eyes for over thirty years now. Choosing an incarnation of Nick Cave to latch onto as "your Nick Cave" can be a confounding process. This guide aims to help you make your selection.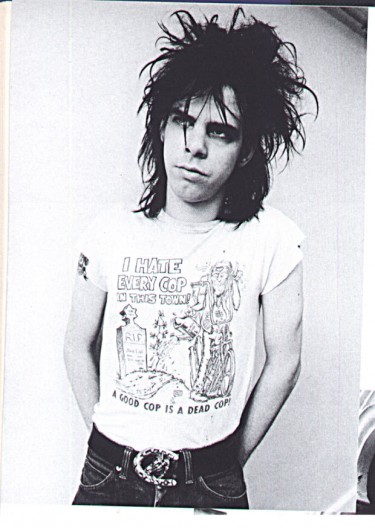 – Gothic Punk Nick Cave – Are you a disillusioned youth with oodles of energy and nowhere to place it? Do you find yourself obsessed with the tropes and language delivered to you during a religious upbringing even though you have all but rejected the faith? Do you have an affinity for more eye liner than society deems appropriate?  If so, then Gothic Punk Nick Cave is exactly what the doctor ordered. We recommend steady doses of Cave's original band The Birthday Party during alternating trips to the library, the VFW hall in your town that allows the all-ages hardcore shows and the abandoned church on the outskirts of town.
– Love Sick Balladeer Nick Cave – Has your heart been shattered into a zillion pieces by a reckless lover? Do you spend your days perched at the end of a piano hoping to be a conduit for the world's saddest minor chords? Do you wish to make broad, negative generalizations about humanity while simultaneously wishing that one human in particular would care about you the way you care about them? I don't want to jump to conclusions here but I believe that Love Sick Balladeer Nick Cave may be your spirit animal.  Please focus on the No More Shall We Part and The Boatman's Call albums and write long, obsessive poetry to your unrequited love.
– Reclusive Author/Poet Nick Cave – Not interested in being a song and dance man right now? Do you feel like crashing through the literary gates in the proud (yet often failure-ridden) tradition of musicians trying their hand at novel writing? Reclusive Author/Poet Nick Cave is your Nick Cave, my bookish friend! Fear not, this one is fairly low on expectations; Cave has written two novels in the span of his entire career. But it's not the volume of work that counts in the literary world. Cave's latest, The Death Of Bunny Monroe, was praised for treating its characters tenderly and with humanity, and of course, involved ghosts too.
– Mid-life Crisis Dirtbag-Rocker Nick Cave – Have you mellowed with age but are interested in deeply confusing everyone around you? Do you feel compelled to act crazier and crasser than even your younger incarnation would have dared? Would you rather menacingly shake a tambourine rather than play the piano? If this sounds familiar then you may be most closely connected with Mid-life Crisis Dirtbag-Rocker Nick Cave.  Don't be embarrassed. Despite the moniker's negative connotation let me assure you that just as everyone enthusiastically embraced Cave's Grinderman project they are sure to accept you and your middle aged punk antics. The key here is to fly your freak flag with pride and temporarily place your self-awareness away in the attic for a spell.  Enjoy this time; it's only temporary (this period often ends when you throw out your back doing a keg stand).
– Dancing Nick Cave – Do you dance like this?  Dancing Nick Cave is your Nick Cave.
– Film/Theatre Scoring Virtuoso Nick Cave – Do you want to create incredible soundscapes but stay out of the limelight? Do you want to invent the music that elevates great theatre and film to new levels? Do you enjoy making other people jealous that you're stellar within yet another artistic medium? Perhaps, Film/Theatre Scoring Virtuoso Nick Cave is for you! Teaming up with Warren Ellis, Cave has built beautiful soundtracks for films like the adaptation of Cormac McCarthy's The Road and documentary West Of Memphis over the last few years. For the stage, Cave and Ellis have worked exclusively with the Vesturport Theatre Company crafting haunting, beautiful music for their productions of Woyzeck, Faust and The Metamorphosis.
ArtsEmerson proudly presents Vesturport Theatre and Lyric Hammersmith Theatre's production of Metamorphosis featuring the music of Nick Cave and Warren Ellis. FEB 27 – MAR 03, 2013 at The Paramount Center Mainstage.
Ryan Walsh is the External Affairs Coordinator for ArtsEmerson
One response to "Which Nick Cave Is Right For You?"