February 21, 2013 | Theatre

,
UNIVERSES: The Next Thing
I remember March 18th, 2012 very clearly. It was by mere coincidence that I found myself in the Paramount Center Mainstage theatre that afternoon; do not the best things always happen coincidentally? The show was the final performance of Ameriville by UNIVERSES, and although I had heard from my peers that the show was "good," no one had given me any more information than that.
I was blown away.
Having seen Aftermath at ArtsEmerson a year earlier, I hungered for another piece of theatre that not only entertains but shines a spotlight on human rights and social issues. As a woman of color I also hungered to see work by someone who looks like me—or at least speaks of things that relate to me. I felt that the theatre I'd been exposed to thus far in a predominantly white, private university in Boston, Massachusetts did not—for the most part—adequately discuss the topics of race, class, politics and ethnicity.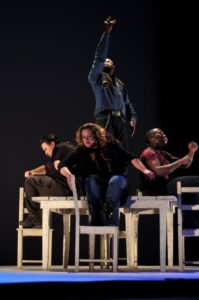 Therefore, I was taken aback and thoroughly pleased when Steven Sapp, Mildred Ruiz Sapp, Gamal Chasten and William Ruiz (aka Ninja), UNIVERSES' founders, chanted, danced and sang their hearts out onstage in Ameriville. Set in New Orleans, the per capita murder rate capitol of the nation, the non-linear play took us through a range of issues that arose from Hurricane Katrina – issues that are not unique to New Orleans alone: poverty, homelessness, the economy, immigration, etc. The show struck me as a national anthem of sorts that beautifully communicates who we are and that charges the audience with the desire to rise above it.
The subject matter UNIVERSES deals with in Ameriville and their other works is pressing and highly relevant to modern society, but what is truly memorable and unique about them is their performance style. They describe themselves as "multi-disciplinary writers and performers who fuse poetry, theatre, jazz, hip-hop, politics, down home blues and Spanish boleros to create moving, challenging, and entertaining theatrical works." The poetry, songs and movements are so naturally rhythmic that one forgets that it is a performance at all and is hypnotized.  Most importantly, UNIVERSES infuses their work with incredible passion—passion so apparent that witnessing it moves audiences to tears.
I left the theatre literally dancing and singing. I was in my own blues musical as I walked down the street; as I skipped my way across Boylston and Tremont, I passed the usual mass of people I know, determined to make a difference in the world.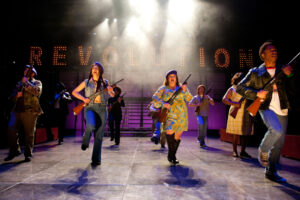 UNIVERSES' most recent production, Party People, explores the Black Panther and the Young Lords movements of the 1970s, discovering the different dimensions we seem to have forgotten about, so that , as they say, "history does not seem as black and white as it sometimes reads in history books."
Spring Training is similarly stimulating. The work will "explore  Stravinsky's groundbreaking composition [The Rite of Spring] and create a daring 21st century soundtrack on ritual and revolution." In an American landscape that has just experienced one of the most divisive elections in its history and is still in the midst of social, economic and political struggles, this work again will speak to the people's—our—identity.
UNIVERSES is The Next Thing because their work tackles subjects we may think removed from our national experience and uses our universal (what a convenient choice of words) humanity to make them relevant. What they present then acts as a mirror through which we can see ourselves as a society, and the reins are handed back to us as we are charged to take action. It is easy to get caught up in our own worlds, to succumb to our everyday trials and tribulations; their work gives us new perspective: we are not alone. Everything we do affects other people and we have to think of the collective as well as the American ideal we have become accustomed to, Individualism. I don't know if that is what I was supposed to take from seeing them a year ago, but I will say that never have I had a theatrical experience that so much made me feel a part of a community and connected to the world around me.
The Spring Training workshop is FREE and open to the general public! Learn more here. 
If you'd like to see anything else in the Festival, the  festival pass admits you to see all of the groundbreaking companies and works: Vision Disturbance by New York City Players, Blood Play by The Debate Society, A (radically condensed and expanded) Supposedly Funny Thing I'll Never Do Again after David Foster Wallace by Daniel Fish and Birth Breath Bride Elizabeth by Sleeping Weazel, as well as a concert with The Army of Broken Toys, The Shakespearean Jazz Show, films, workshops and more!
Andrea Gordillo is an Emerson BFA Acting'14 student and a Dramaturgy & Outreach Assistant at ArtsEmerson.