Get Disinformed
I arrived at the performance of Isango's The Magic Flute feeling heavy. I'd flown from Boston over­night to Munich to be there for it. I was tired and out of sorts. And it was winter. I was cold. I was by myself in a city I'd never been to. And this performance, it seemed, was taking place in the middle of some sort of winter fair—the Munich Christmas Market—which meant I was trying to figure out what I was doing in the middle of throngs of boisterous people who knew exactly what they were doing and they didn't seem headed to the opera. Certainly nobody was dressed for opera.
And I hate asking directions to things. But it was just not obvious to me which of these temporary structures of the Christmas Market was an opera house. None, in fact, seemed likely. They were tents. And there were big puddles all over the dirt walkways, some help­fully covered over with plywood planks that were now slick with ice. And what time was it, anyway? And which of these food stands was going to have something I could trust? Oh, fine, I just won't eat. I'll sit through this whole opera hungry.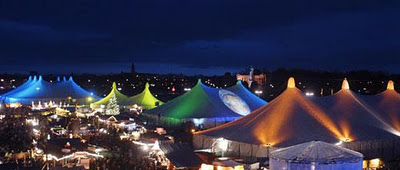 The tents of the Tollwood Winterfest in Munich
And why, of all things, had I flown all this way to see a company from the townships around Cape Town perform Mozart's The Magic Flute when I had seen this opera half a dozen times done by "real" opera companies in "real" opera houses? By the time I entered the tent for this show, I was convinced I knew what I was in for and how I was going to feel about it. The only thing left for me, then, was to prove it to myself. I sat in my seat with my arms folded across my chest. "Let's get on with it."
My colleague, Polly Carl, teaches an essay by performance artist Matthew Goulish in which he describes this state of mind as the informed state for a viewer: we are confident we already know what is about to happen, we are informed on the form and certain of the outcomes. We sit waiting to be proved right. And we look only for confirmation. On the other end of the spec­trum is the ecstatic viewer. One who doesn't already know. One who is here for the discovery.
In Munich, the evening started in a manner that disinformed me. Nelson Mandela had passed during the previous night, and the company assembled in front of us to speak of what his life meant to them and to lead us in a moment of commemoration. I wiped an unexpected tear away. My arms were now uncrossed. I felt my tight grasp on my low expectations slip. These people were authentic. They were in the room with me. We were in the world together. They were going to perform, though heavy of heart themselves, and they were asking us to join them on their journey.
A barefoot man with exuberant and unruly hair stepped forward, a plain white sheet got raised at the back of the stage. He turned to face it. Raised a baton. ("This is the con­ductor? What's going on?") He exploded into motion and the whole tent reverberated with the sounds of marimbas and drums. I recognized the tune, it was Mozart after all, but not the sound. And there, projected on the sheet, the buoyant face and body of our conductor, seeming to float above the ground and injecting light directly into each heart in the house. Even mine, so cold and heavy a moment ago, was reached by this company. And they never let me go. Though I had come to my seat an informed theatregoer, I was now an ecstatic adventurer in the complex wilderness of an extreme, ebullient cultural mash up.
This is the experience we are trying to create for you here at ArtsEmerson each and every time out. We want to move you out of your informed and settled notions of the world, of cul­ture, of art and of your community. Of the heavy weight of your own certainty. We want to shoot you into the ecstatic state of discovery, awaken your appetite for what you've edited out of your daily routine. Take you places you have not been, in ways you could not anticipate, and leave you there in a room full of strangers (who are your neighbors) to sort it all out. We want to begin, together, to rediscover our community through shared experiences of art. We are less interested in what you thought when you came in. We want to hear what you feel as you leave.