April 13, 2015 | Theatre

,
Double Edge Theatre, Chagall, and the 20th Century
Double Edge Theatre found many sources of inspiration for The Grand Parade (of the 20th Century) – their mythic depiction of 1900 – 1999. One such source was a series of paintings by the iconic artist Marc Chagall (1887 – 1985). Here are some side-by-side images of Chagall's work and moments from The Grand Parade, as well as some information about each painting. If you are familiar with Chagall, do you have a favorite painting? If not, what art from the 20th century inspires you? 
The Promenade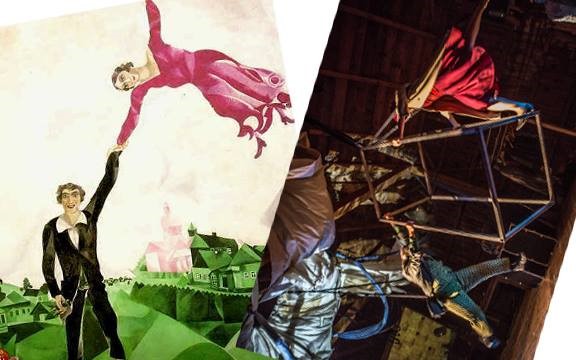 Date: 1917-18
Place of creation: Vitebsk
Description: The Promenade is one of Chagall's most figurative compositions. It shows the exuberant enjoyment of living. There's also a reflection of the political atmosphere – the exhilarating sense of freedom and optimism generated by the October Revolution, which had just taken place. The revolution meant true liberation for the Jews; at last they were entitled to the same full rights as every other citizen of the state. So these large-scale pictures indicate a high-spirited, even exultant attitude to life, and they all center on Bella, against the background of the hometown.
The Dance and the Circus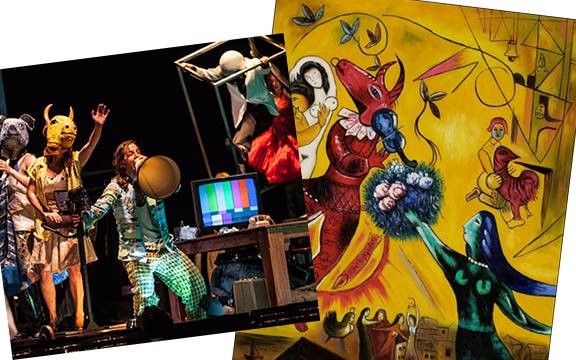 Date: 1951
Place of creation: France
Description: is a remarkable oil painting with exceptional use of color, detail and brush strokes. Chagall worked on this large mural to decorate the auditorium of the newly-opened Watergate theatre in London. Chagall loved both the theatre and the circus.
The Rooster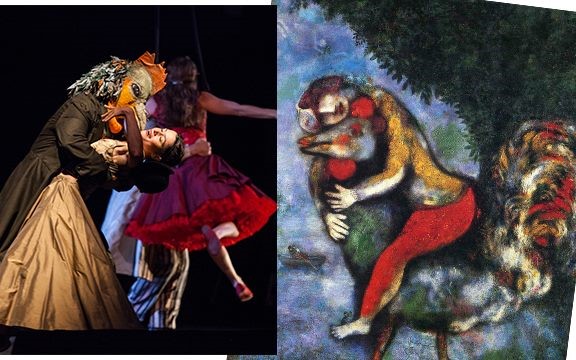 Date: 1929
Place of creation: Paris
Description: In The Rooster Chagall expressed fertility, often painted together with lovers.
The Bride and Groom on Cock
Date: 1939-1947
Place of creation: Paris
Description: it has elements of richly hued folk-art motifs from Chagall's youth in Russia and elements of nostalgia.It also reflects a return to Chagall's earlier, more colorful and joyful palette.
—
The Grand Parade (of the 20th Century) is playing at the Paramount Theatre from April 30 – May 3. Click here to view a trailer!