Limitless Possibilities: The ArtsEmerson Multimedia Trilogy
The Guardian noticed it in 2008: "Recently, I've seen a lot of shows which make inspired use of projection, AV, techniques and tricks filched from film and TV, pushing the limits of what's possible on stage while never letting you forget you're in a theatre."
In ArtsEmerson's eight-year history, these kind of technological marvels have always found a place in each of our seasons. Perhaps you recall being wowed by Historia de Amor, The Old Man and The Old Moon, Needles and Opium, Kiss & Cry, and House/Divided, to name a few. Now, in our current 2017/18 Season, our affinity for these types of shows has reached a new high-water mark: we're about to present three multimedia productions all in one season this winter/spring! "One of the areas of most energizing and imaginative innovation in Theatre sits in the intersection between live performance and media arts," Artistic Director David Dower explained. "Inside that intersection is a particularly vibrant community of artists who are blending the techniques of film and performance."
Although each of these companies' techniques are wildly different, and the stories are uniquely their own, they are all tied together by their inventive marriage of old fashioned stagecraft and cutting-edge multimedia special effects to create sometime intentionally different (and entirely ArtsEmerson). In Ada/Ava, rising theatre stars Manual Cinema utilizes special effect techniques from the early age of cinema — shadow puppetry, live-action silhouettes and overhead projection — to conjure a magic spell of multimedia storytelling, complete with a live musical score. It's been said that audiences marvel at their creations even as their methods are plainly revealed.
While Ada/Ava's team create the majority of the visual magic in real-time, Torrey Pines takes another approach. Filmmaker Clyde Petersen painstakingly created the stop-motion animation film component of the show with co-animator Chris Looney. "We didn't use outlines," Petersen recalled about the rules they obeyed for the creation of the film. "Everything you see is hand-painted." Petersen now tours with the finished film providing the live musical soundtrack with the band Your Heart Breaks at theatres, cinemas, and rock clubs. It's the perfect combination of prepared animation and live performance, which in a way, recalls the early days of cinema, when silent films' soundtracks were provided by a small orchestra or piano player.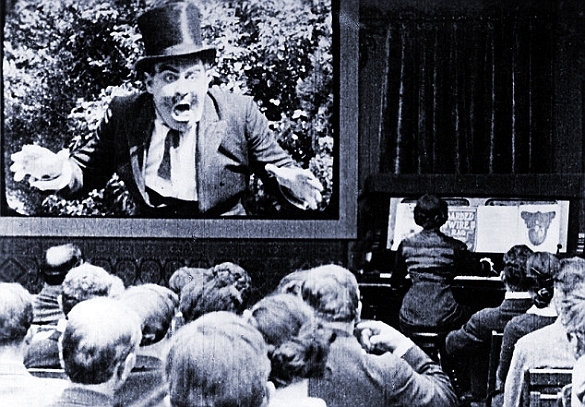 The season closes with Cold Blood, the same team who instantly created a small cult-following when they presented Kiss & Cry in Boston in 2014. If you mashed up the techniques found in Ada/Ava and Torrey Pines, you might begin to approach the complex approach that these Belgian artists employ to blur the line between film and live theatre. Under the direction of Belgian choreographer and dancer Michèle Anne De Mey and the award-winning filmmaker Jaco Van Dormael, master artists use live film projection on stage to bring miniature worlds into full view of the audience. Into these minature sets a pair of hands (yes, hands) enter these scenes and evoke all the complexities of a full human actor. Should you watch the artists achieve their magic trick or the finished project shown above them on a screen? The answer is both, of course, and, like Ada/Ava, De Mey and Van Dormael know that revealing the methods of the trick only deepen the appreciation for what is achieved on stage.
Beyond an appreciation for the ingenuity of these three works, there were other factors that made this trilogy a perfect fit for the 2017/18 Season. "ArtsEmerson is housed on the campus of one of the leading film and visual media programs in the world," Dower notes. "Emerson also boasts one of the leading theater training programs in the country. It was only natural that ArtsEmerson would both explore and support these boundary-blurring artists from around the world."
"The possibilities in this intersection are limitless. These three pieces only can hint at the creativity and surprises that thrive in the worlds between."