September 30, 2022 | Theatre

,
Who is Bill Irwin, the Clown Behind On Beckett?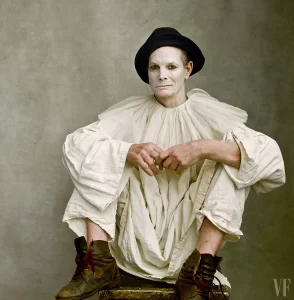 As Bill Irwin prepares to bring his one-man show On Beckett to Boston, you may find yourself wondering who is Bill Irwin? And chances are, you definitely know who he is, you just don't know it yet. Irwin's film credits include popular titles such as How the Grinch Stole Christmas (2000), Interstellar (2014), and The Lady in The Water (2006). This is just scratching the surface of the colorful and seasoned career of Bill Irwin.
Irwin is an actor, professional clown, playwright, and director. He's appeared in stage-shows, both on and off-Broadway, film, and television. Born in 1950 in Santa Monica, CA, Irwin attended Oberlin College to study acting before studying at the now-defunct Ringling Brothers and Barnum and Bailey Clown College. He was heavily inspired by classic silent comics like Charlie Chaplin and Harold Lloyd. After college he worked as a circus performer before transitioning to film and television. He is credited as a contributor to the American circus renaissance of the 1970s. He helped found the Pickle Family Circus in San Francisco in 1975. In 1979 he left the circus to pursue other work. However, even no longer working with a circus, professional clowning has always remained at the core of Irwin's work. 
His first feature film role was as Ham Gravy in Robert Altman's Popeye (1980), starring Robin Williams and Shelley Duvall. He continued to be a stage actor while paving his way in the film and television space, some of his recurring roles include as Enrico Bellati in Northern Exposure, Nate Haskell in CSI, Cardinal Brennan in Blue Bloods, Atticus Nevins in Sleepy Hollow, Calvin Bennett in New Amsterdam, Su'Kal in Star Trek: Discovery and most recently as Channing Robertson in The Dropout. Irwin has also appeared as Dr. Peter Lindstrom, in Law & Order: SVU. He calls upon his clowning and silent comedy background as Mr. Noodle on children's series Sesame Street, in which he performs completely in pantomime.
Irwin boasts extensive stage credits as well. He won a Tony Award for his role as George in Who's Afraid of Virginia Woolf and three category nominations for his role as The Post-Modern Hoofer in Largely New York as well as the writer and director of the show. He has been nominated for many other awards and won a Drama Desk Award, a New York Drama Critics' Circle Award, and an Out Critics Circle Award for Largely New York. He has performed in both on and off-Broadway productions including: Bye Bye Birdie, King Lear, Waiting for Godot, Accidental Death of an Anarchist, and The Tempest.
Bill Irwin is a bit of a theatrical chameleon. He knows what he's good at and is able to seamlessly adapt himself to the surroundings of his character, to really become his character. He's given himself a sense of anonymity, yet you know who he is. You just didn't realize it until now. 
More recently, Irwin has started to focus on his own work including stage shows Old Hats, a collaboration between Irwin and fellow clown David Shiner, and On Beckett, in which Irwin explores his relationship to Irish playwright Samuel Beckett. 
Want to see more of Bill Irwin's masterful on-stage presence? Come see ON BECKETT at the Robert J. Orchard Stage at the Emerson Paramount Center from October 26-30!