October 28, 2022 | Theatre

,
Welcome Back, Arlekin Players and Mikhail Baryshnikov!
ArtsEmerson is proud to welcome back longtime friends Arlekin Players and renowned choreographer and actor Mikhail Baryshnikov to the Robert J. Orchard Stage in the Paramount Center for their production of The Orchard from November 4-13. Based on Anton Chekhov's The Cherry Orchard, Arlekin invites us into the world of a family struggling for connection while their orchard is foreclosed on and they risk losing everything they ever knew. Starring Jessica Hecht and Baryshnikov, The Orchard just finished a widely acclaimed off-Broadway run in July. Director and creator Igor Golyak, pushes the boundaries of the use of technology in theatrical productions with the use of advanced projections, robots, and both an in-person and online modalities in which to experience the performance. The online modality includes different features and experiences, allowing the audience to interact with the performance and characters. Pushing boundaries in both the realms of technology and theater has become a frequent theme for both Arlekin and Baryshnikov. They have performed some of their most contemplative pieces here at ArtsEmerson.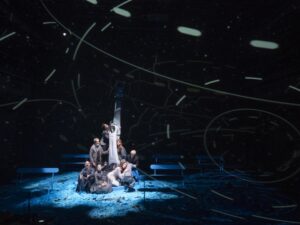 Some past Arlekin Players performances at ArtsEmerson are Dead Man's Diary, State Vs. Natasha Banina, and ChekhovOS. ArtsEmerson also brought back Mikhail Baryshnikov in 2018 with BRODSKY / BARYSHNIKOV. BRODSKY / BARYSHNIKOV is a one-man show starring Baryshnikov, based on the poems of Joseph Brodsky. Finally, amidst the COVID-19 pandemic of 2020, where an in-person, typical, theater experience was not possible, Arlekin and ArtsEmerson put on State Vs. Natasha Banina. A reimagining of the play Natasha's Dream by Yaroslava Pulinovich, this all-virtual performance starred Darya Denisova as a Russian teenager telling her story in a Zoom courtroom. On trial for manslaughter, she tells her story to the audience who is ultimately the jury and must decide her fate. 
Arlekin and ArtsEmerson are pleased to be able to bring The Orchard to not only an online audience but an in-person one as well. Arlekin Players' The Orchard starring Mikhail Baryshnikov and Jessica Hecht is playing at the Robert J. Orchard Stage in the Emerson College Paramount Center and live streamed online from November 4-13. Learn more and purchase tickets here and watch the trailer here.