November 1, 2011 | Theatre

,
Check out these films, books and music related to MOBY DICK
By Corrie Glanville
FILMS
Moby Dick (1956)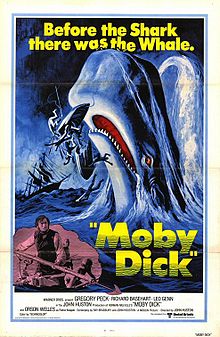 Although there are numerous film adaptations including a recent television mini-series with William Hurt and Ethan Hawke, John Huston's 1956 Moby Dick might arguably be considered the definitive version. With a screenplay by Huston and sci-fi writer Ray Bradbury, the film starred Richard Basehart as Ishmael and beloved Hollywood star Gregory Peck as the tortured Captain Ahab. The story may have been streamlined from Melville's giant, rambling novel, but Huston captured Ahab's all-consuming quest perfectly in this brooding, atmospheric tale of the sea.
Jaws (1975)
Based on Peter Benchley's novel of the same name, Jaws permanently changed the landscape of American film when it became one of the first summer blockbusters distributed in wide release and won three Oscars for editing, sound and John Williams' sinister score. It also made a name for its then unknown director, Steven Spielberg, who shot the movie off Martha's Vineyard. Plagued with technical difficulties, the mechanical sharks were constantly malfunctioning so Spielberg decided to suggest the presence of the Great White Shark with the musical theme, which proved to be the making of a classic.
Free Willy (1993)
 A far cry from Moby Dick, this sentimental children's favorite was a surprise box office hit that brought attention to Keiko the real killer whale in the title role.  A sweet, simple story about a troubled young boy who befriends an imprisoned whale, this eco-conscious family film entertains its young audience while it shines a light on the plight of sea animals in captivity.