I Left My Heart in Munich
If you have ever seen me around ArtsEmerson, it will be no secret to you that I love my job. I love my job!
One of the best bits of the work I get to do is that I get to "scout" for the ArtsEmerson team. I go see work, all over the world, to find the best events to help us bring the beautiful complexity of the world's awe-inspiring diversity alive for you in some of Boston's most majestic theaters. (You see what I did there, with "majestic", right?)
And every season, there is one project that just nails what it is I love about this work. This fall, it's the exuberant production of The Magic Flute, from South Africa's Isango Ensemble that has taken residence in my heart. My pulse races, again now, as I sit here to write you about it as it did the night I first saw it.
The performance happened in Munich, the night after the passing of Nelson Mandela. The company, hearts heavy from the loss of a hero, led us first in a moment of silence and then in prayer to commemorate his extraordinary life. And then, in his honor, they lived the extraordinary, right out loud, right in front of us, as they picked up their marimba mallets and began the exhilarating overture, conducted by a man so filled with light he seemed to levitate in front of us. Come see if I'm exaggerating. And this was just the overture. And all they had were marimbas. But it was magic.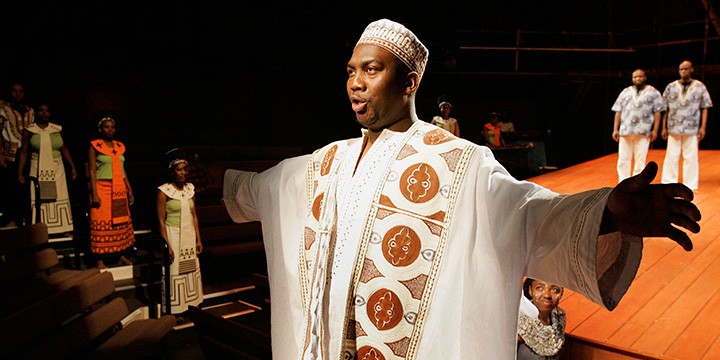 All over the theater, the heaviness lifted, and our hearts, as one, soared. We were shot straight from our sorrow into the dizzying light air of joy. And this incredible ensemble never let up, holding us there in that place of mirth and wonder and laughter and celebration for the rest of the performance. I will never forget that night.
Nor will you forget your first experience of Isango. When you come. (You see what I did there, with "when" you come, not "if" you come?)
Drawn from the townships around Capetown, South Africa, the company has taken many classical Western masters like Mozart and Bizet and, working through a deeply rooted sense of their African culture, rediscovered in them their essential universality. What Isango knows is that we, the guardians of this planet, are more connected by our humanity than divided by our politics, borders, traumas or cultural differences.
In all of our hearts lives a song. Put your hand there. You can feel the beat. Come to the Cutler Majestic for The Magic Flute and know its source. I've been waiting nearly a year for you to see this show. I cannot wait to share it with you now. When you come, find me and let me know your thoughts.
Thank you for your support of our efforts to put the global diversity on the stage here in Boston. I look forward to bringing you treats like this for many years to come!
One response to "I Left My Heart in Munich"