October 9, 2014 | Theatre

,
Kicking off our 5th Anniversary Season – the Mass Ave Challenge
In celebration of the launch of our 5th Anniversary Season, we threw a challenge to our audiences – take a picture of yourself by ArtsEmerson's SouthEnd Spectacular (located at the Mass Ave T-Stop), post on social media with #ArtsEmerson and tell us: What are you excited for this season and what is special to you about ArtsEmerson? In exchange, we're giving one free ticket to our October productions.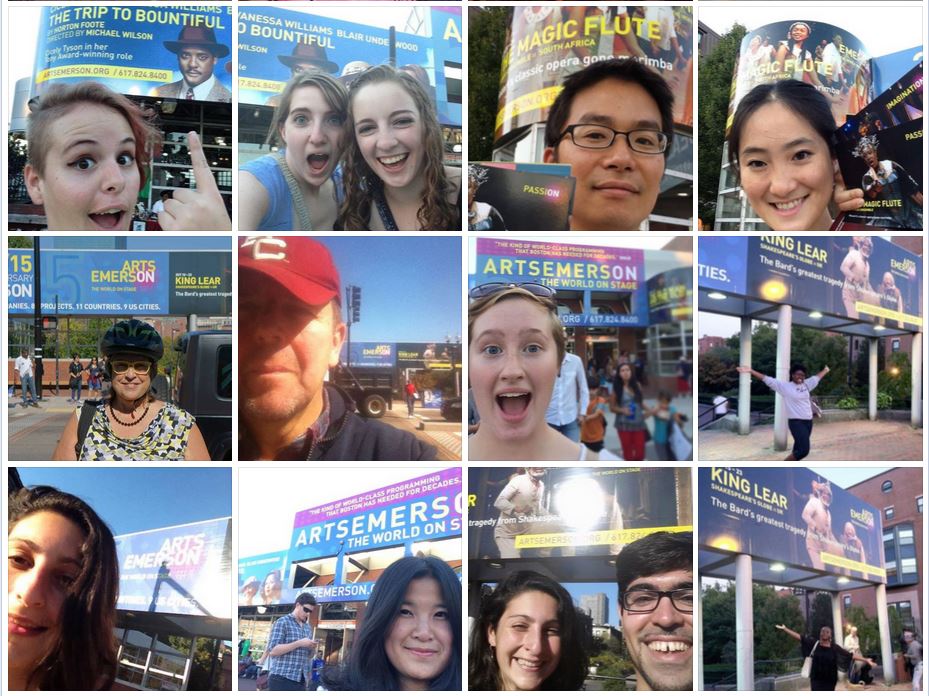 Needless to say, we've been blown away – thank you to everyone who has participated! We love you and can't wait to see you at the theatre. Below are just a few of the ones up so far. The Mass Ave Challenge runs through October 26th. So you tell us: When will we see your face on Mass Ave?
Samantha Hval: "ArtsEmerson has showed me shows that I would have never have had the opportunity to see otherwise. The shows have inspired me, and I have ArtsEmerson to thank for letting me experience great theatre!"
Susan Collins: "ArtsEmerson has changed the face of theater in Boston, bringing audiences dynamic, exciting internationally renowned performances on a large scale, as well as highly personal pieces that touch the audience with their intimacy. ArtsEmerson has provided a showplace for local talent as an opening act and welcomed both young and old to their audiences. Bravo!"
Temi Ogunbodede: "To me, ArtsEmerson is a place where I can be a kid again. It is a world full of imaginations, ideas and dreams. It is a place where dreams are made possible and alive. I LOVE ArtsEmerson."
Victoria Boyd: "ArtEmerson is a wonderful asset to the Boston community that helps to make Boston a center for the arts in the United States."