November 20, 2014 | Theatre

,
On Folktales and Meeting Freshman Year
"The child intuitively comprehends that although these stories are unreal, they are not untrue…" —Bruno Bettelheim, The Uses of Enchantment: The Meaning and Importance of Fairy Tales
When I met the members of PigPen Theatre Co., I was completely enchanted. Before me was a group of young men who had met their first week of freshman year in college. I imagined them sitting cramped in some tiny freshman dorm room, telling stories from way back in their high school days. (I have no idea if they even lived in dorms.) I witnessed them for the first time telling their tales via instruments in their band, also called PigPen Theatre Co. And the music enchanted me. I downloaded it on my iPhone and I sing it out loud on my walks into work. I play it over and over for my yellow lab, who seems soothed by the sounds. I've fallen in love with their rhythms, and a song in particular, "The Dress Song," about "making you a dress."
PigPen Theatre Co.'s story is not unlike the very folktales they create together. Italo Calvino, who has written extensively on folktales, describes them this way in his book Six Memos for the Next Millennium:
The very first characteristic of a folktale is economy of expression. The most outlandish adventures are recounted with an eye fixed on the bare essentials. There is always a battle against time, against the obstacles that prevent or delay the fulfillment of a desire or the repossession of something cherished but lost.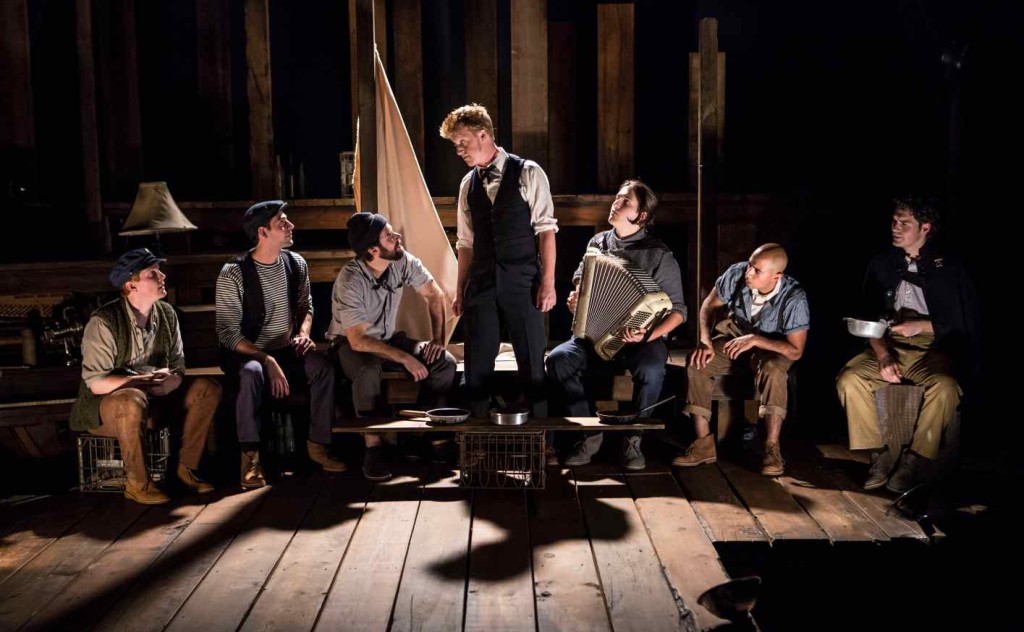 What could be more outlandish than seven freshmen meeting their first week of college, and forming a theatre company and an urban folk band and still making stories several years later? This tale they tell about themselves—the story of their meeting, their story of forming a company, their song about a dress—present a dialectic between the fantastic and the real, and a way of interpreting the world, which are the epic qualities of the folkloric.
And the impetus for The Old Man and The Old Moon follows Calvino's deep under¬standing of what drives a good story. In the play, we are in a battle against time, the moon is draining of its light, and the Old Man who fills the old moon with light has left his light-filling duty to follow his wife, the Old Woman, who has been drawn by a simple tune to take a journey on a boat to find the tune's origin.
And thanks to PigPen Theatre Co. and their fairy tale story of forming a company, we get to be delighted by their ability to provide us with—through music, shadow puppetry and good old fashioned yarn-telling—a modern-day folktale.
But why a folktale in 2014? Jack Zipes, a fairy tale scholar, writes in his essay, "The Forgotten Tales of the Brothers Grimm," that the brothers' purpose in aggregating German folktales was "to trace and grasp the essence of cultural evolution and to dem¬onstrate how natural language, stemming from the needs, customs and rituals of the common people, created authentic bonds and helped forge civilized communities." What a wonderful sense of the power of story—to create bonds among people and create and transform communities. This is why we broker in good storytelling here at ArtsEmerson, because we believe deeply in the power of story to connect us in all of our differences around shared ideas, values, and principles. What better way than a folktale to get to the essence of our ArtsEmerson community?
So we invite you tonight to travel across the sea of your imaginations to embrace what's unreal in this story in order to uncover its truths. Like all good folktales, we hope it leads you to places of deeper meaning and greater self-understanding. We hope your encoun¬ter with this story is as fortuitous as that first meeting between the members of PigPen Theatre Co.