November 21, 2014 | Theatre

,
The Best Quotes from PigPen Theatre Co.'s Emerson College Student Workshop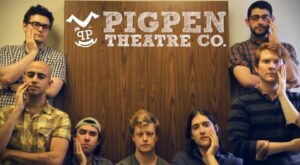 On sharing ideas with others and being willing to compromise:
"Hold on tightly, let go lightly."
On surrounding yourself with positivity:
"The conversations you cultivate with others become who you are."
"A lot of people will tell you what is going to make you happy just because it made them happy in the past. But stay honest with yourself, and make decisions that are going to make YOU happy."
"One of the biggest creative challenges and making the massive things small. Being willing to simplify."
Thanks to student Kelly Downes for the quotes! More from PigPen Theatre here (which is also hilarious) The Old Man and The Old Moon MUST close this Sunday November 23rd.