February 1, 2023 | Theatre

,
Made in China 2.0, in Partnership with CHUANG Stage
CHUANG Stage, Boston's Mandarin-English bicultural theater company, is excited to serve as a key community partner to ArtsEmerson in producing a local dialogue and cultural engagement to welcome the production of Made in China 2.0 by Wang Chong to Boston.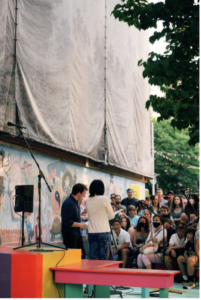 Founded in 2018, CHUANG Stage is the first Mandarin-English bilingual, bicultural theater company in the nation. Its mission is to cultivate joyful and challenging Asian American stories that pioneer new activism in the arts. The company envisions a future in American theater that is moved forward by theater artists and audiences of Asian descent through innovative productions that contribute to language access and immigrant visibility. CHUANG Stage places emphasis on community and industry partnerships, advancing diversity accountability at collaborating institutions, and uplifting engagement-based arts practices.
As both a professional theater and community-based arts initiative, CHUANG Stage is dedicated to changing the face of Boston theater by bringing more pan-Asian artists into the spotlight. Together with Asian American artists who work for and with their community, CHUANG Stage expands immigrant stories to a greater stage, while also giving back to Boston's Chinatown and other underserved spaces. The company uplifts the participatory and communal nature of performing arts with enhanced language accessibility, introducing Asian American joy and justice for all. CHUANG Stage was founded by graduates of Emerson College and its flagship student theater initiative, CHUANG Lab@Emerson, advances the next generation of young theater artists from China and other Mandarin-speaking countries.
Throughout the performances of Made in China 2.0, CHUANG Stage and ArtsEmerson will be dedicating two performances to the local Asian American/Chinese immigrant community: Sunday, February 5th at 2pm, followed by a conversation with scholar, provest, and author of Chinese in Boston, Wing-Kai To, as well as Friday, February 10th at 8pm, followed by a conversation between Wang Chong and Chinese American theatre scholar Yizhou Huang. Purchase tickets for Made in China 2.0 performances here.