February 13, 2023 | Theatre

,
Frankenstein Throughout the Years
Many will be familiar with Frankenstein, a large, lumbering, green man with dark features, protruding square-shaped forehead, and various bolts and stitches on his face and neck. These are some characteristics of the classic Frankenstein monster, a character who has haunted and fascinated us as a society for over a hundred years.
Frankenstein made his first appearance in Mary Shelley's 1818 novel of the same name. Frankenstein follows scientist Victor Frankenstein as he creates a sentient, human-like creature and the aftermath and repercussions of doing so. "The Creature," as he is called in the book, would later become the monster society now calls just "Frankenstein" or "Frankenstein's Monster", giving The Creature a more recognizable name as well as the surname of its creator. As of 2022, Frankenstein has made more than 30 appearances in various films, television shows, and even video games. 
Let's look at some highlights of Frankenstein's long history in the limelight — and of terrifying audiences.
1. Frankenstein (1910)
The first film adaptation of Frankenstein was released in 1910. The film was directed by J. Searle Dawley and produced by Thomas Edison (yes, THAT Thomas Edison) and distributed by the Edison Manufacturing Company. This silent short film ran a total of 16 minutes in length and was shot using only one reel of film. Unfortunately, like many other films of its time, it was eventually considered lost. It was not uncommon for films from this era to go missing. Film reels were very delicate and easily damaged or destroyed. If a film reel was misplaced, the movie was gone with it. In the 1950s, the film was found by a Wisconsin film collector. Alois F. Detlaff, the collector, didn't actually realize the importance of his discovery until the 1970s. The Library of Congress purchased Detlaff's collection in 2014 and undertook a massive project to restore the film. They completed their restoration of the original Frankenstein film in 2018 and it can now be viewed on YouTube.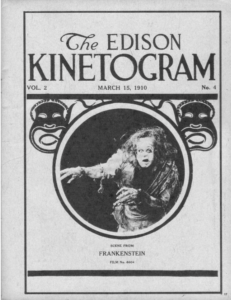 2. Frankenstein (1931)
Now the first film adaptation of Frankenstein was released in 1910 and Frankenstein had been being performed as a theatrical piece years before that, however a lot of aspects of the Frankenstein we know first appeared in James Whale's 1931 film adaptation of Frankenstein. English actor Boris Karloff starred as Frankenstein's Monster which solidified his place as a horror icon. Hollywood makeup artist Jack Pierce and Karloff collaborated on the Monster's appearance, giving us the iconic image that we recognize as Frankenstein today. 
3. Bride of Frankenstein (1935)
Frankenstein is an iconic and easily identifiable character, but his female counterpart gained star status as well. In the highly anticipated sequel to Frankenstein (1931), Dr. Frankenstein tries to escape his past but eventually succumbs and returns to his old ways after threats from the Monster, who is lonely and desperate for a companion. SPOILER ALERT, this results in Dr. Frankenstein creating a bride for the Monster, aka The Bride of Frankenstein, who became fairly iconic in her own right
.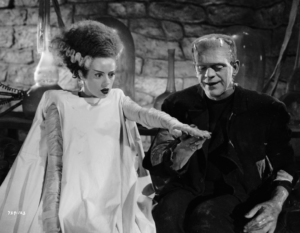 4. The Munsters (1964-1966)
The Munsters is an American sitcom following the trials and tribulations of a family of monsters. Patriarch and father of the family, Herman Munster, also just so happens to be Frankenstein's Monster. The Munsters depict a more satirical approach to characters that were more traditionally frightening like Frankenstein and Dracula. Herman Munster, originally depicted by Fred Gwynne, is very kind and clumsy. He has the intimidating appearance of Frankenstein's Monster but is big ol' teddy bear at heart.
5.  Mary Shelley's Frankenstein (1994)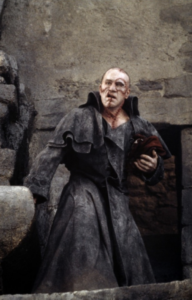 Considered one of the most faithful adaptations of the novel, Mary Shelley's Frankenstein features a star-studded cast, with Robert De Niro starring as the Monster (or The Creation as he is referred to in this film). Directed by Kenneth Branaugh, who also stars alongside De Niro as Victor Frankenstein, this film received mixed reviews by critics who didn't find it scary enough to be considered a horror film. However, the makeup artists for the film were nominated for an Academy Award for Best Makeup and the film was adapted into a video game of the same name.
6. Van Helsing (2004)
Starring Hugh Jackman and Kate Beckinsale, and written and directed by Stephen Sommers, Van Helsing follows a famous monster hunter to Transylvania to battle with its most famous resident, Count Dracula. Unbeknownst to Van Helsing and his partner Anna Valerious, , Count Dracula has teamed up with a Werewolf and Frankenstein's Monster to assist him in his evil scheme! This horror-adventure film was mostly shot overseas in the Czech Republic and boasted a whooping budget of $160,000,000.
7. Young Frankenstein (2007)
Young Frankenstein is a musical by Mel Brooks based on the 1974 comedy film of the same name, written by Gene Wilder and Brooks. It retells the classic Frankenstein story with a raunchy and comedic spin. After a successful trial run at the Paramount Theatre in Seattle, Young Frankenstein opened on Broadway in 2007. It later went on two US tours and did a stint in London's West End. It was nominated for three Tony Awards in 2008 and a Grammy Award in 2009.
8. Frankenweenie (2012)
Frankenweenie is a 2012 stop-motion comedy/horror film by Tim Burton, based off of Burton's 1984 short film of the same name. The film follows young aspiring scientist Victor Frankenstein, who after a tragic accident, decides to bring his beloved dog, Sparky, back to life. Chaos ensues, with Sparky's reanimation wreaking havoc on Victor's small hometown. The film received generally positive reviews.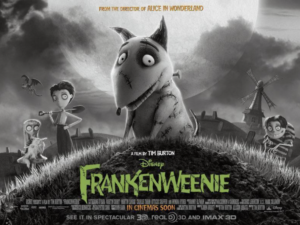 9. The Hotel Transylvania Franchise (2012-2022)
The Hotel Transylvania franchise consists of the 2012 film of the same name and three sequel films. This series of animated, family, adventure-comedies, stars Selena Gomez, Adam Sandler, Andy Samberg, and Kevin James. Revolving around Dracula, his daughter, Mavis and their friends; Frankenstein, Bigfoot, Murray the Mummy, the Invisible Man, twenty-one year old human Jonathan, and Dracula's resort the Hotel Transylvania. Known as Frank, Frankenstein is Dracula's best friend and loving husband to his wife Eunice. Voiced by Kevin James, Frank is a lovable gentle giant who also happens to be terrified of fire. The franchise was created by Todd Durham and produced and distributed by Sony Pictures Animation. 
10. Manuel Cinema's Frankenstein (ArtsEmerson, 2023)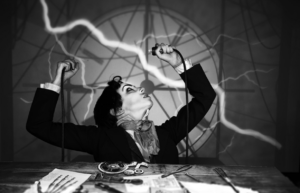 In their modern take on the classic tale, Manuel Cinema's Frankenstein depicts both the original story and weaves in a biographical narrative of the original author of Frankenstein, Mary Shelley. Manuel Cinema uses various unconventional techniques in this theatrical production, including shadow puppetry. This piece explores the love, loss, and connection that Victor Frankenstein, The Monster, and Mary Shelley herself were all searching for. This piece premiered at the Court Theatre in Chicago in November 2018.
Manuel Cinema's Frankenstein will be performed on the Robert J. Orchard Stage in the Emerson Paramount Center from February 22 – February 26, 2023. For more information and to purchase tickets, please click here!


Paige Walker, February 2023