February 14, 2023 | Theatre

,
Manual Cinema returns to ArtsEmerson with Frankenstein
It is no wonder that Manual Cinema "appreciates Bostonians' open-minded nature and willingness to engage with cinematic material," as this is the troupe's third time gracing the stages at ArtsEmerson! The Chicago-based, Emmy winning puppetry group is returning to Boston for their performance of Frankenstein, running from February 22-26 at the Emerson Paramount Center on the Robert J. Orchard Stage.
Previously, Manual Cinema joined ArtsEmerson to present Ada/Ava, which ran in January 2018, and The End of TV, in January 2019. Audiences raved about these performances, calling them "clever and creative," "deeply moving," and "absolute magic."
Manual Cinema's brilliant storytelling captivates audiences, and makes each trip to the theater feel like an emotional journey. The collective creates live films, preserving the authentic liveliness of theatre and nostalgia of cinema techniques. In every performance, Manual Cinema redefines art through their distinctive use of handmade shadow puppets and innovative sound.
Since their last Boston performance in 2019, Manual Cinema has traveled with their shows from Chile to Switzerland. In 2021, Manual Cinema collaborated with Nia DaCosta to make puppet animated sequences in Candyman.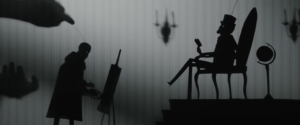 Additionally, the Chicago History Museum commissioned a collection of short films illuminating The Great Chicago Fire of 1871. Their notable shadow puppetry, original music, and sound design depict the fire and share eyewitness accounts from survivors. Most recently, Manual Cinema released a short film Future Feeling, part eco-film, part-haunted house tale.
In their latest production of Frankenstein, Manual Cinema attempts to "animate the inanimate" and build empathy for one of the most famous monsters in literature while also exploring the life of Frankenstein's creator, Mary Shelley.
The Frankenstein adaptation is unlike any other thus far. The sense of loss at the beginning stitched with the sad beauty of the creature centers this interpretation around empathy.
Tickets for Manual Cinema's triumphant return of Frankenstein are selling out quickly, so be sure you reserve your seats soon!