April 24, 2023 | Theatre

,
Who is DeLanna Studi, creator and performer of And So We Walked?
ArtsEmerson is thrilled to welcome renowned Cherokee actress, playwright, and activist DeLanna Studi to the stage of the Emerson Paramount Center, where she is set to open her latest show, And So We Walked, on April 26. And So We Walked explores the story of a contemporary Cherokee woman and her father who embark on a 900-mile journey along the Trail of Tears​, drawing from Studi's own life and experiences.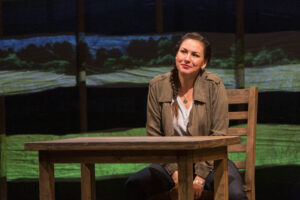 Studi was raised in a Cherokee community in Muldrow, Oklahoma, which she has described as "the middle of nowhere" but is poignantly geographically close to the end destination of the Trail of Tears. DeLanna has noted that her interest in performing stemmed from participating in speech and debate at a young (an activity she initially enrolled in to help combat social anxiety), however, despite her blossoming passion for theater, she decided to pursue engineering at Northeastern State University in Tahlequah, Oklahoma. Studi's engineering studies were cut short, as she did eventually switch her focus to theater, which a specific interest in improving representation of indigenous people on stage. 
When she was 22, DeLanna Studi left Oklahoma to fully pursue an acting career. Her parents' decision to support the move to Los Angeles was heavily influenced by her uncle Wes Studi, a well-known and successful Cherokee actor. After two years in California, DeLanna booked her first large role in Hallmark's Dreamkeeper.
As a film actress, DeLanna has had a number of noteable roles, including in the Peabody Award-winning Edge of America, Goliath, Shameless, General Hospital, The Roof, and Reservation Dogs. Her theater credits include the first national Broadway tour of the Tony Award– and Pulitzer Prize-winning play August: Osage County, off-Broadway's Gloria: A Life (Daryl Roth Theatre), and Informed Consent (Duke on 42nd Street); along with her regional credits of work at the Oregon Shakespeare Festival, Portland Center Stage, Cornerstone in Los Angeles, and the Indiana Repertory Theatre.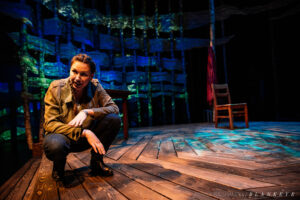 Since 2007, she has served as chair of SAG-AFTRA's National Native Committee. DeLanna is dedicated to youth work and changing the historically inaccurate portrayal of Native Americans in American culture, collaborating with organizations such as the National Conference for Community and Justice, Encompass, City at Peace, Shakespeare LA, Voices of Reproductive Justice, and the Heman G. Stark Youth Correctional Facility.
Studi has also conducted residencies and workshops at multitude of universities and organizations, including the Yale Indigenous Performing Arts Program, Brown University/Trinity Repertory Theater, Dartmouth College/ Hopkins Center, University of Wisconsin: Green Bay, University of Wisconsin: Madison, Arizona State University, Gonzaga University, University of North Carolina: Chapel Hill, and the Museum of the Cherokee Indian.
In 2022, DeLanna Studi published the book for the one-woman show, And So We Walked, which recreates an actual trip taken by Studi and her father along the Trail of Tears. This show, which was met with massive acclaim, is the first production chosen for the Journées Théâtrales de Carthage in Tunisia.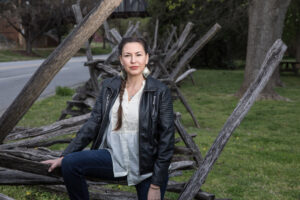 Do not miss DeLanna Studi's powerful performance on the Robert J.Orchard Stage in the Emerson College Paramount Center from Apr 26-30. Learn more and purchase tickets here.