September 12, 2023 | Events

,
Little Amal in Boston
On September 7, ArtsEmerson had the honor of welcoming Little Amal to Boston – her first stop on her journey across the United States! Her time in Boston was filled with community gatherings, cultural events, and city-wide celebrations. Take a look below to read more about her visit and to view some pictures of Little Amal's Walk!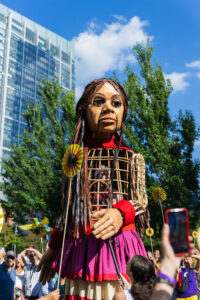 Amal began her tour of Boston in Dewey Square in front of one of the largest murals in the city, where dozens of attendees eagerly awaited for her arrival. She was greeted by song, dance, and even a sunflower-seed planting activity.
From Dewey Square, Amal and participants walked to the Chinatown, an area formerly known as Little Syria. The celebrations continued in front of the Chinatown Gate, a traditional paifang archway at the Beach Street entrance of the neighborhood that serves as a welcoming symbol for immigrants entering Boston.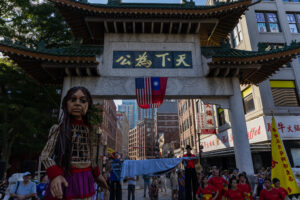 Following Amal's walk around the Downtown areas, she headed off to Cambridge to continue her journey.
Were you able to meet Amal during her visit to Boston? We'd love to hear your experience — leave a note in the comments and check out the full photo gallery here.
Photo credits: Ve-Studios