September 5, 2023 | Events

,
Little Amal Welcome Events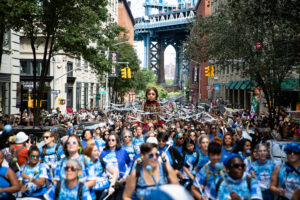 Come celebrate the arrival of Little Amal on September 7! We are so excited to welcome Amal to our city in just a few days and are even more excited to share her route & scheduled events. From Dewey Square to Chinatown Gate, Little Amal will be welcomed by the City of Boston as she begins her journey around the United States. Activities will begin at 3:30pm and Little Amal will arrive at 4pm. The celebrations will even continue at 5pm after she departs to her next destination in Cambridge. 
On Thursday, September 7, Little Amal will take her first steps in Dewey Square, at the Southern end of the Rose Kennedy Greenway across from South Station. This location holds significance as it is the entry point for many visitors and new residents. From there, will travel to the the Chinatown Gate – a decorative entryway that symbolically ushers in new residents of Boston. Every city that Little Amal has visited has welcomed her with specially curated "Welcome Events" designed to align with the unique characteristics of each hosting community. In Boston, Little Amal will be presented in partnership with The City of Boston, Mayor's Office of Arts & Culture. She will be welcomed with performances by A Trike Called Funk, Grooversity, New England Bhangra Club, and others.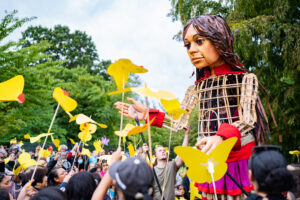 Little Amal's arrival coincides with Welcoming Week, with other events planned for her 3-day journey through Boston. On September 7, she will venture to historic Harvard Yard and will also take a walk from Egleston Square Branch of the Boston Public Library to Franklin Park on Saturday, September 9. Her final walk will begin at 1pm on 9/9 at the ICA Watershed in East Boston with performances by the Veronica Robles Cultural Center. Little Amal's arrival provides an opportunity for reflection and celebration of the rich cultural diversity in the city of Boston.
The event is free and open to the public. For more information, please visit our website.