October 17, 2023 | Theatre

,
A Note from David C. Howse and Ronee Penoi on The Book of Life
"Hope is being able to see that there is light in spite of all the darkness" — Desmond Tutu
It is that hope that we need to lean on during these unsettling times. News of violence across our country and around the world has a palpable impact in a city of so many diasporas. In such trying times, it can be tough to envision genuine joy in the midst of adversity.  However, audiences can envision that very joy firsthand as they experience The Book of Life.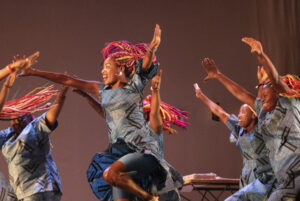 Written and performed by the magnificent Odile Gakire "Kiki" Katese, The Book of Life centers on a Rwandan woman's reflection of the Rwandan Genocide nearly 30 years later. In 1994, nearly one million Rwandan people were killed in 100 days, inflicting immense trauma and grief that would last generations. In this work, Kiki explores how it is possible to rebuild after such loss. Combining original music from Ingoma Nshya—Rwanda's first ever women's drumming group—a collection of letters written by ordinary Rwandans, Katese's own family history, and a Cherokee story of a spider bringing light to the dark, the experience offers hope and a path forward of a more just future for us all. 
ArtsEmerson is deeply grateful to the Volcano Theatre in Canada and The Woman Cultural Centre in Rwanda for their partnership in bringing this impactful piece to The Cutler Majestic.e are also incredibly grateful to Kiki Katese for serving as our 2023/2024 Fresh Sound Artist in Residence–an annual program that connects master artists with students and faculty in the Emerson Community as well as the broader Boston community. The Fresh Sound Artist Residency is made possible through the generous support of The Fresh Sound Foundation and we are truly thankful to them for their instrumental role in making this residency a reality.
ArtsEmerson looks forward to joining you at the Cutler Majestic Theatre from October 18-22 for The Book of Life.