October 7, 2022 | Theatre

,
Drumfolk receives an enthusiastic Boston welcome!
This week's opening of Drumfolk featured electric energy and robust community engagement. ArtsEmerson wants to thank Boston While Black for coming out to support and hosting a post-show mixer where folks were able to socialize and debrief on experiencing Step Africa!'s brilliant production.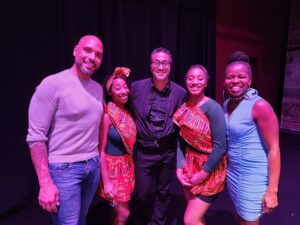 We love this video @boswhileblack made recapping the opening night of #Drumfolk! pic.twitter.com/b834HIeprp

— ArtsEmerson (@ArtsEmerson) October 7, 2022
Check out some additional post-show impressions from opening night.
Feel free to leave a comment on this blog post, or reach out on Facebook, Twitter, or Instagram; be sure to tag @ArtsEmerson too! Be sure to check back here for more reviews from press and other audience members.