March 27, 2023 | Theatre

,
ArtsEmerson's Acrobatic Past
ArtsEmerson is thrilled to welcome circus performer Raphaëlle Boitel back to the Paramount Center with her newest production, when Shadows Cast, running from March 30-April 2. In anticipation of this show, let's take a look back at ArtsEmerson's rich circus history, starting with our inaugural season.
2010-2021: – The 7 Fingers
The 7 Fingers, a circus troupe from Montreal, astonished Boston audiences during ArtsEmerson's first season (2010/2011) with their remarkable performance of PSY. The 7 Fingers are a favorite at ArtsEmerson thanks to their enthralling and soul-stirring combination of circus, music, and dance. Most recently in 2021, The 7 Fingers joined us virtually for their theatrical film, Out of Order, which told the tale of a dystopian future in which artists are forced to meet and perform in secret. Other past productions by The 7 Fingers in Boston include Sequence 8 (2012/13), Traces (2014/15), Cuisine & Confessions (2016/17), Reversible (2017/18), and Passengers (2018/19).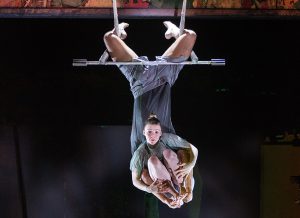 April 2016: The Grand Parade (of the 20th Century) – Double Edge Theatre
Double Edge Theatre's dramatic collage inspired by visual artist Marc Chagall transported audiences on a 100-year historic voyage through the mythology of our time. Described as a "phantasmagoric utopia" by the Washington Post, The Grand Parade (of the 20th Century) blended circus, puppetry, dance, projections, and images of historic events with Chagall's vivid paintings. This piece commemorated the present moment by looking back at our past, from the moon landing, the atomic bomb, the assassination of President Kennedy, and the fall of the Berlin Wall, and acknowledging where we come from.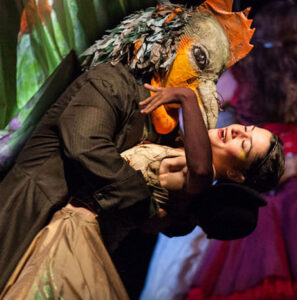 September 2016: Machine de Cirque
Machine de Cirque entertained Boston audiences in the fall of 2016 with seven acrobats and one dazzling guitarist who unleashed a creative colorful explosion. These amusing and charming characters journeyed through a monochromatic exhibition, mocking convention while using various props such as a teeterboard, juggling clubs, drum equipment, and even bath towels. Machine de Cirque is a non-profit organization that promotes idea exchange and collaboration with other cultural groups in the Quebec City area to develop and generate local talent and regional experience in the field.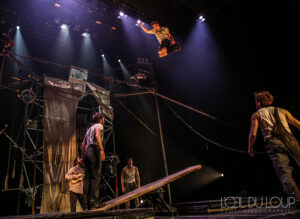 February 2019: When Angels Fall – Raphaëlle Boitel 
Raphaëlle Boitel, a French creator and director, wowed audiences with her 2019 premiere of When Angels Fall. Boitel, who has a magical capacity for shifting space with large scale illusions and bodies pouring over the stage, told the story of flightless angels surviving a global collapse in which the human spirit's perseverance is tested against the sterile and mechanical.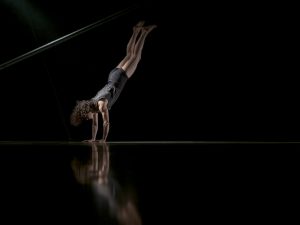 May 2019: See You Yesterday – A Global Arts Corps Production
Shortly after the premiere of When Angels Fall, ArtsEmerson welcomed nineteen Cambodian circus performers and acrobats for See You Yesterday. In this piece, second-generation survivors of the Khmer Rouge genocide used acrobatics and circus arts to examine the fragmented stories of the genocide that they had inherited from their parents and grandparents. The cast conducted in-depth interviews with their elders and even a former child soldier of the Khmer Rouge to create a beautifully cathartic performance. These young Cambodian artists collaborated with Global Arts Corps to process the traumatic past of their nation.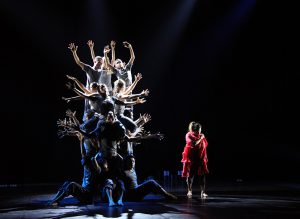 March 2023: Shadows Cast – Raphaëlle Boitel 
Raphaëlle Boitel's latest piece, Shadows Cast, uses an impressive mix of dance, circus, and cinema to explore the human psyche and highlight the dangers of lying to ourselves and others. This show draws inspiration from cinematic visionaries and delivers a true visual feast for the eyes.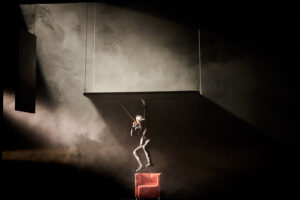 Shadows Cast opens on March 30 at the Paramount Center Robert J. Orchard Stage and runs until April 2. Get your tickets now!