April 27, 2023 | Theatre

,
A list of past solo performances at ArtsEmerson
DeLanna Studi's And So We Walked is a deeply-personal solo performance starring Studi herself. The show follows a Cherokee father and daughter in the present day, retracing the steps of her great-great grandparents on an unforgettable 900 mile journey along the Trail of Tears. Before you see Studi on stage at the Emerson Paramount Center, let's take look at some of the past solo acts ArtsEmerson has hosted over the years.
1. Marissa Chibas's Daughter of a Cuban Revolutionary (2016)
Marissa Chibas's deeply introspective solo piece, Daughter of a Cuban Revolutionary, ran at ArtsEmerson from April 27th – May 1st, 2016. Chibas – the daughter of a famous Cuban pageant queen and a revolutionary who co-wrote the manifesto for the Cuban Revolution with Fidel Castro – grew up surrounded by politics, culture, and a country at war with itself. As politics became such a big part of her familial identity, Chibas began to wonder just how she fit into the equation. Daughter of a Cuban Revolutionary was both a retelling of her families' colorful history and an exploration of Chibas's own personal identity.
2. Melinda Lopez's Mala (2016)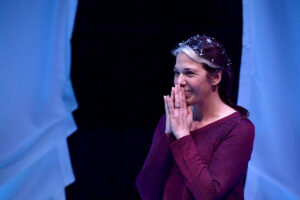 Cuban-American, Boston-based playwright Melinda Lopez premiered her one-woman show, Mala, at ArtsEmerson in October 2016. The show follows Lopez as she cares for her ailing, elderly mother. Mala evokes themes of family, death, survival, and one's own sense of self, as Lopez struggles to cope with the looming death of her mother as well as her own survival. During the COVID-19 pandemic in Spring 2020, GBH aired a recording of Mala (shot at Boston's The Huntington Theatre), hoping to raise the spirits of the performing arts community, a sector that took one of the hardest hits during the pandemic. Barry Edelstein, Artistic Director of The Old Globe Theatre in San Diego, called Mala "a gorgeous and touching play about caregiving, parenthood, and the cycle of life."
3. Liza Jessie Peterson's The Peculiar Patriot (2018)
Liza Jessie Peterson's one-woman show, The Peculiar Patriot, ran at ArtsEmerson from October 17th – 28th, 2018. After spending years working with incarcerated people, including inmates at New York's Rikers Island, Peterson takes to the stage to convey the systemic injustices Black Americans face both inside and outside our prisons. Peterson depicts the fictional Betsy LaQuanda Ross, a self-proclaimed "peculiar patriot," who frequently visits prisons and correctional facilities to help boost the morale of inmates. Introspective, political, and sometimes downright hilarious, Peterson depicts the impact of racial injustice and mass incarceration in America in The Peculiar Patriot.
4. Travis Alabanza's & Hackney Showroom's Burgerz (2022)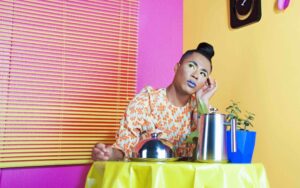 Burgerz is equal parts cooking show and a public reclamation of the self. Produced by the UK's Hackney Showroom and created and performed by Travis Alabanza, Burgerz was a unique and raw tour-de-force. After an attack of transphobic slurs and a burger were thrown at artist Alabanza, their newfound passion was discovered. Alabanza became obsessed with hamburgers and everything from inception to construction to taste to feel. Sometimes hilarious, sometimes sad, and always new and exciting, Burgerz is a reclamation of an act of violence and one's self as well as the exploration of an obsession. Alabanza is considered to be one of the United Kingdom's most prominent trans voices. The Artery called Burgerz "thought-provoking," and "delivered with sharp wit and masterful stagecraft." Travis Alabanza's and Hackney Showroom's Burgerz ran at ArtsEmerson from April 13th – 24th, 2022.
5. Alanna Mitchell's and The Theatre Centre's Sea Sick (2022)
Produced by The Theatre Centre and written and performed by Alanna Mitchell, Sea Sick is based off of Mitchell's book of the same name. Science journalist Mitchell ventured into the ocean to learn absolutely as much as she could about it. In her research, Mitchell had to come to grips with the devastating effects of climate change and what it means for our future. Mitchell's presentation is approachable and sometimes funny, sometimes somber. But yet she conveys a strong sense of hope for the future and for change. Sea Sick received much praise from critics with The List calling it "a remarkable feat of storytelling and reportage." Sea Sick ran at ArtsEmerson from May 11th – 22nd, 2022.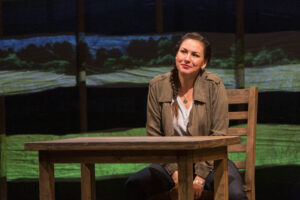 These five performances are just a small snapshot of the dozens of solo shows that ArtsEmerson has hosted over the years. Our latest one-act show, And So We Walked, runs until April 30th at on the Robert J. Orchard Stage. Do not miss this incredible performance — learn more and get your tickets here!
Paige Walker, April 2023